The Lake LBJ Real Estate blog
I am sure Lake LBJ real estate owners have heard about the bridge that was demolished in an effort to build a new bridge for US 281. Â The explosion happened on March 17th at approximately 9:48am. Â The explosion caused some minor damage to verizon phone lines and some of the sewer lines in Marble Falls. Â By 7pm of that night phone service was restored and all repairs to sewer lines were repaired. Â The project should improve traffic in and out of Marble Falls for Lake LBJ real estate owners.
If you would like more information about this project or for information on purchasing Lake LBJ real estate, contact me at (512) 786-1515.
Too often I see bad real estate professionals mis-market real estate at the expense of the seller. Â These poorly marketed properties sit on the market for a long time and end up selling below market value. Â Today's waterfront buyers scour the internet in search of good properties and if your property is not being marketed in a way that attracts buyers you will never get showings. (more…)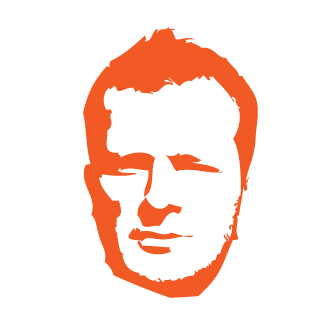 Eric Carvajal has established himself in Lake LBJ real estate as the lake's top broker for many reasons. Â When purchasing a waterfront home on Lake LBJ, you should expect a higher level of service and work with someone that has real market knowledge. You are making a large investment decision and you should expect more from your Lake LBJ real estate professional.
We have created and developed the #1 Lake LBJ real estate search site that far surpasses anything that our competition is offering allowing our buyer's to have the most accurate and up-to-date web experience possible. Â If you google "Lake LBJ real estate" or "LBJ real estate" you will see who comes up. Â This is not by chance!
Different than most agents, Eric Carvajal lives and breaths Lake LBJ Real Estate. Â Eric Carvajal does not just sell property at Lake LBJ; He owns waterfront home and is out on the water living and breathing the waterfront Lifestyle. Â His experience, which began at a very young age, has allowed him valuable insight as to the ins and outs of owning waterfront property. Â His clients leverage his experience and knowledge to minimize risk when purchasing Lake LBJ real estate.
Eric Carvajal has access to off-market and pocket listings on Lake LBJ. Â If you are looking for a unique property Eric Carvajal will hunt it down to help you buy your dream home on Lake LBJ. Â We do not just see what is available in MLS but rather we know the owners on the water and can get you access to properties that other agents cannot.
Eric Carvajal previews all listings on the lake so he has a good understanding of what is out there and available. Â You won't get bombarded by him with irrelevant listings that aren't worth seeing but when he does send an email it is because he has found a good opportunity. Â Be sure to check out his "Top Picks".
If you are looking to purchase Lake LBJ real estate and want to work with Lake LBJ's Top Broker, contact me today at (512) 786-1515
There is a current battle taking place between rice farmers in Matagorda county and the LCRA who controls water flow from the Colorado River. Â In recent years, the LCRA has ensured plenty of water necessary to grow and produce rice for these farmers however the recent drought has changed their position. Â For the second year in a row the LCRA has voted to not send water downstream to these farmers due to current drought conditions.
Farmers are arguing that the lack of water is really hurting the economy in these farm towns. Â The LCRA argues that low lake levels reduces spending from recreation. Â In an article posted on Statesman.com it was said that over one growing season, this rice requires, per acre the same amount of water used by 18 single family homes in Austin and only produces 1500 lbs. of rice, enough to feed family's of four in each of those 18 homes for two years, eating rice for breakfast, lunch and dinner.
This is good news for owners of Lake LBJ real estate as it shows the commitment to the lakes water levels over agriculture. Â To read more, check out the article on Statesman.com.
If you would like more information on Lake LBJ real estate, contact me at (512) 786-1515.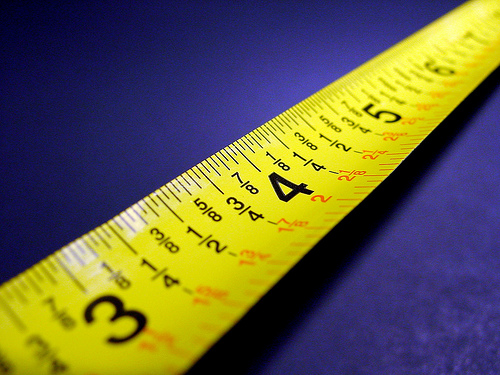 When buying a waterfront home on Lake LBJ it is critical that your Lake LBJ real estate professional ensures your square footage is what is being represented by the seller. It is not the real estate agent's responsibility to actually measure as this is outside the scope of their work but your real estate appraiser should take measurements and compare it against what the taxing jurisdiction has listed.
I recently encountered an issue in which we discovered that my client's home was 200 sq. ft. smaller than he believed and than was represented when he purchased the home. In this particular case the difference in value was approximately $30,000. This can be a significant difference and can materially affect the value of the property you are buying.
In areas such as Granite Shoals or Sunrise Beach where older homes exist there are often times added square footage that needs to be properly accounted for. When people make additions the square footage calculations can be off due to the fact that there is limited oversight and regulations governing construction in these areas. Many times you will see Lake LBJ waterfront homes built on stilts and the owner will close in the space below, nearly doubling the living square footage. However, be careful because depending on how this is done, the height of the ceilings and the quality of construction this may not be true square footage. Your Lake LBJ real estate professional can assist you in making this determination.
If you would like more information on square footage verification or Lake LBJ real estate, contact me today at (512) 786-1515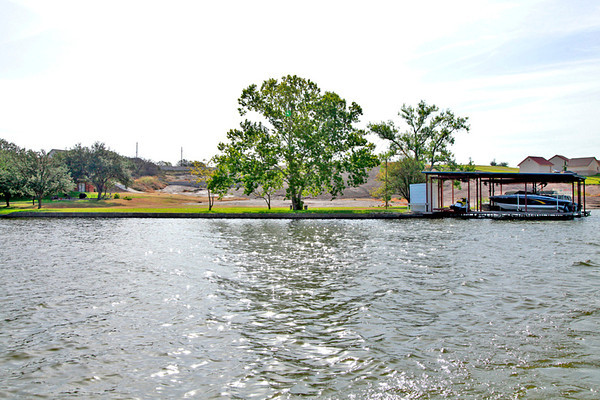 When purchasing a waterfront home on Lake LBJ it is very important to understand your property tax rates as this can seriously affect the holding cost of your Lake LBJ real estate. The tax rate varies significantly from area to area and these variations can be a good amount of money:
Below are the tax rates for the major areas on the lake:
Granite Shoals: 2.13%
Sunrise Beach: 1.64
Highland Haven: 1.76%
Horseshoe Bay : 1.75%
When buying Lake LBJ real estate it is also important o consider the differences in new construction vs. older homes. New construction is typically taxed at a much higher tax basis in comparison to an older home of the same sq. footage. It could be advantageous to remodel an older structure to keep your tax basis down. There are some very good opportunities with Granite Shoals real estate and Sunrise Beach real estate to buy older homes with very nice waterfront. Remember the scarce resource is the waterfront and the land so the house can always be modified, or even rebuilt down the road.
If you have any questions about this information or for assistance with your
Lake LBJ home search
, contact me today at (512) 786-1515
If you are in the market for Lake LBJ real estate or Sunrise Beach real estate, check out 411 Circle Drive is an excellent opportunity that I think could be purchased for under 400k. This property sits on a .42 acre lot with 100 feet of waterfront, at the mouth of channel just off the main body on Lake LBJ. The property has beautiful views and a nice sized yard and boat house.
The interior of the property needs a remodel but with a very open layout, open kitchen and master down this property could easily be made into a very fine waterfront property on Lake LBJ. The property has popcorn ceilings and is kept very dark by the owner.
Just removing the owner's stuff from the property would make all the difference in the world and would increase the value by 25k instantly. The property is listed for 420k but I imagine that it could easily be bought for under 300k.
411 Circle Drive – Sunrise Beach
The pictures don't do this one justice; but thats what creates the opportunity! Call me if you want more information on this property or other waterfront homes on Lake LBJ.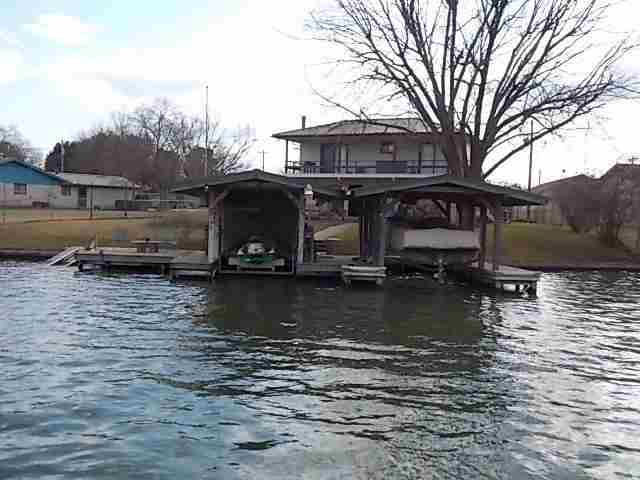 I was sent this video today that I had to share showing the water levels on Lake Travis. One cannot help but cringe when they see how much the water levels have come down and how much dry land is exposed. Lake LBJ real estate has never looked so good!
If you are considering the purchase of Lake LBJ real estate the value has never been more clear. As a constant level lake, Lake LBJ has become increasingly valuable and real estate prices are on the rise.
If you would like more information about Lake LBJ real estate or for assistance with your Lake LBJ Home Search, contact me at (512) 786-1515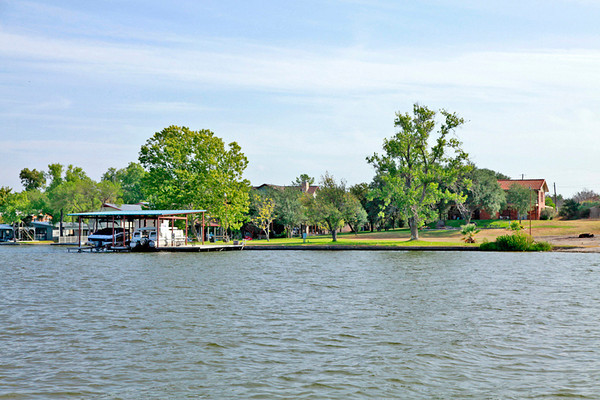 1524 Hill Top in Granite Shoals is coming back on the market, exclusively marketed by The Carvajal Group and Eric Carvajal.
This property was originally listed at $1,200,000 in February of 2012 in the Highland Lakes MLS. The property was eventually reduced to $989,000 but the property did not sell. The Carvajal Group is bringing this property to the market at a very aggressive price of $699,00 which in my opinion is the best waterfront deal available on Lake LBJ.
This property has 427 ft. of open cove waterfront and 2.1 acres of property with mature trees, a 3 bedroom, 3 bath home and a newly constructed concrete and steel, two boat slip boat house with electric lift. This property is actually plotted as 2 separate lots however their is a septic tank that crosses over the two properties, which would have to be handled before the properties could be sold separately. The home needs some updating but I believe has a usable structure that can be improved to build a dream home on Lake LBJ.
If you would like to schedule a private showing of this magnificent piece of Lake LBJ real estate at 1524 Hill Top, please contact me at (512) 786-1515.
The statistics for Lake LBJ real estate for the year of 2012 are in. As you will see there was quite a bit of activity on Lake LBJ. With interest rates low and the incentive to sell property prior to the end of 2012 to avoid higher capital gains taxes really helped to boost sales of waterfront homes on Lake LBJ.
There are some great deals out there in areas like Granite Shoals, Sunrise Beach, Highland Haven, and Kingsland for the under $1 Million dollar buyer and also some very nice opportunities in Horseshoe Bay and Applehead Island for the big money buyers.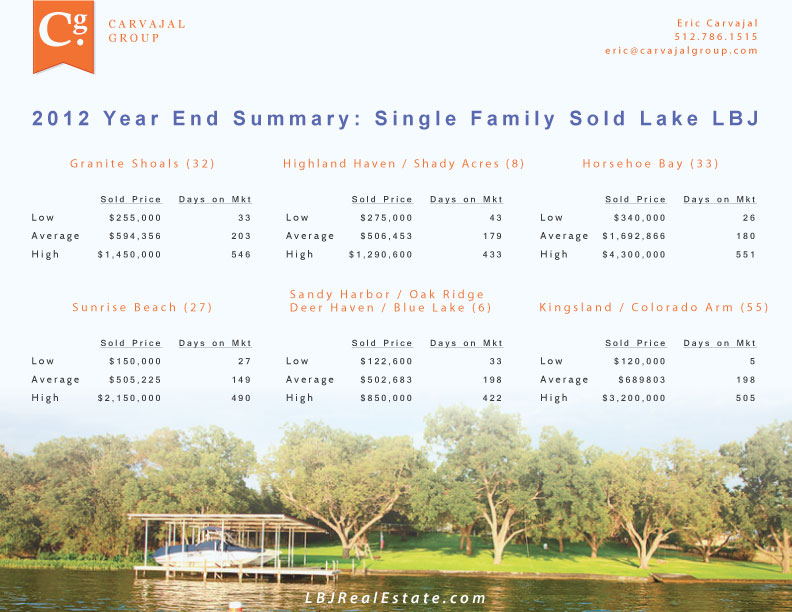 If you are looking at waterfront homes on Lake LBJ contact me today at (512) 786-1515 and let Lake LBJ's top broker find your dream home.