The Lake LBJ Real Estate blog
If you are in the market for Sunrise Beach Real Estate on Lake LBJ, look no further than 130 Skyline. This wonderful Lake LBJ waterfront home is NOT YET listed in MLS but is available for sale for $850,000. The main house is a 2 bedroom, 2.5 bath (approximately 2003 sq ft) plus a detached garage with guest bedroom (744 sq ft) sitting on one of the most primo waterfront lots on Lake LBJ. This property has 159 ft of excellent, large cove waterfront, boat house, built in water slide and plenty of room to spread out.
Contact me today if you are interested in a private showing or for assistance with your Sunrise Beach Real Estate Search
The Carvajal Group is pleased to announce our most recent success with Horseshoe Bay Real Estate on Lake LBJ. 108 Starboard has officially closed for full price in less than 60 days on market. Our experienced team of Lake LBJ Real Estate pros worked together to properly market this waterfront home on Lake LBJ and obtain the exposure we needed to get it done quickly.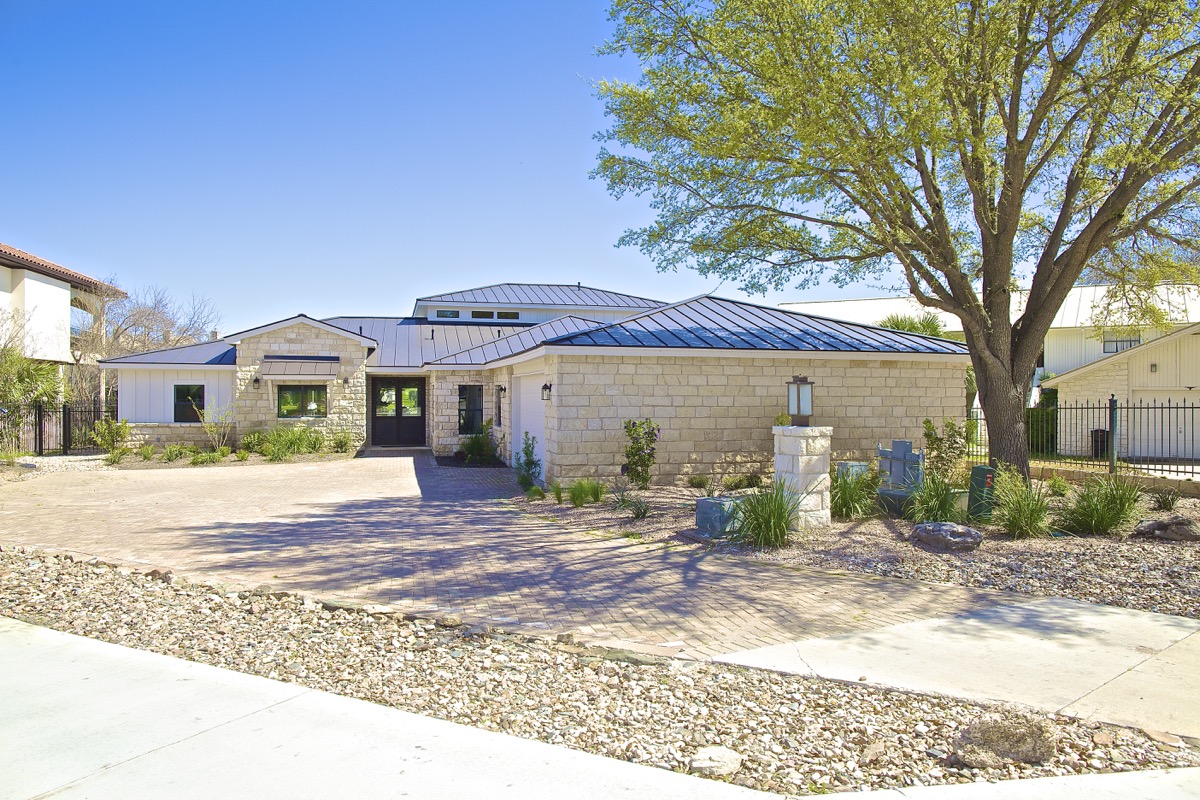 If you have ever considered buying or selling a waterfront home on Lake LBJ, contact the Lake LBJ Real Estate Expert. We are knowledgable and experienced in selling waterfront real estate and can help you achieve your real estate goals.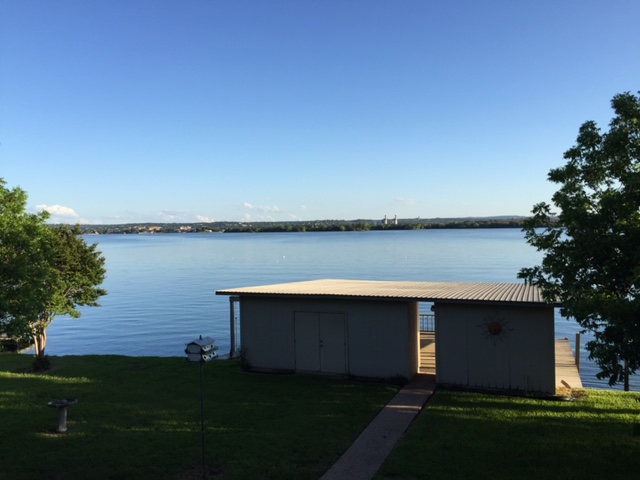 If you are looking for the perfect "fixer-upper" on Lake LBJ, look no further! 800 Clear Cove is an excellent opportunity to own some of Lake LBJ's best waterfront property. This 3 bed, 3 bath house has been in the same family for over 20 years and is ready for your personal touches! With 90 ft of south-facing, wide open water that is very deep (approx. 14+ ft at the boat house) its hard to find a better piece of waterfront property, at this price point on Lake LBJ. The home has a good workable layout with vaulted ceilings, brick fireplace, utility room inside the home and large bedrooms making it the perfect palette for your lake life transformation.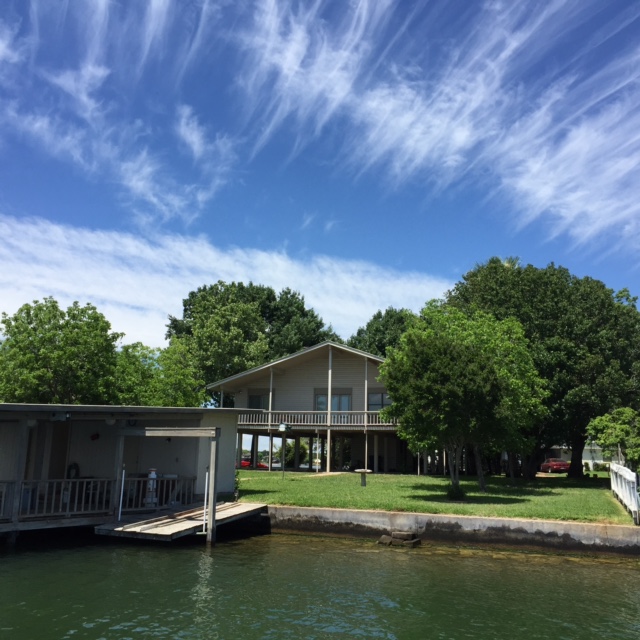 This home is built on stilts and has a full bath and small room down stairs on main level. I believe this space could really make for a very nice outdoor living area/screened porch. The home has a large boat house that is in good conditions and features two large storage rooms at the lake for life jackets, fishing pools and water skis. Per the owner, fishing here is the best on the lake!
Grab your checkbook and swimsuit and come on down and check out this rare Lake LBJ Real Estate opportunity!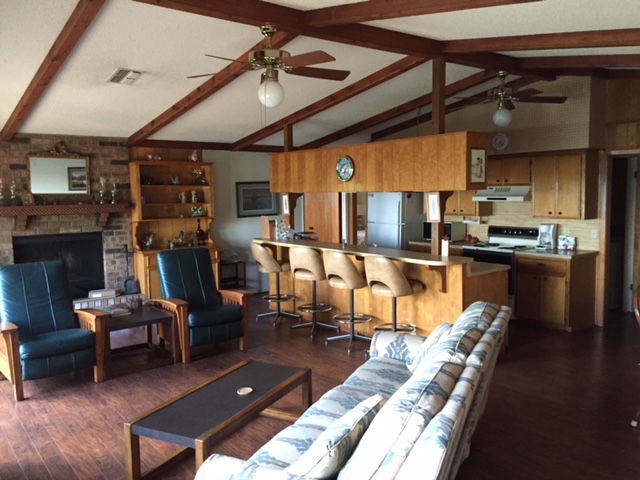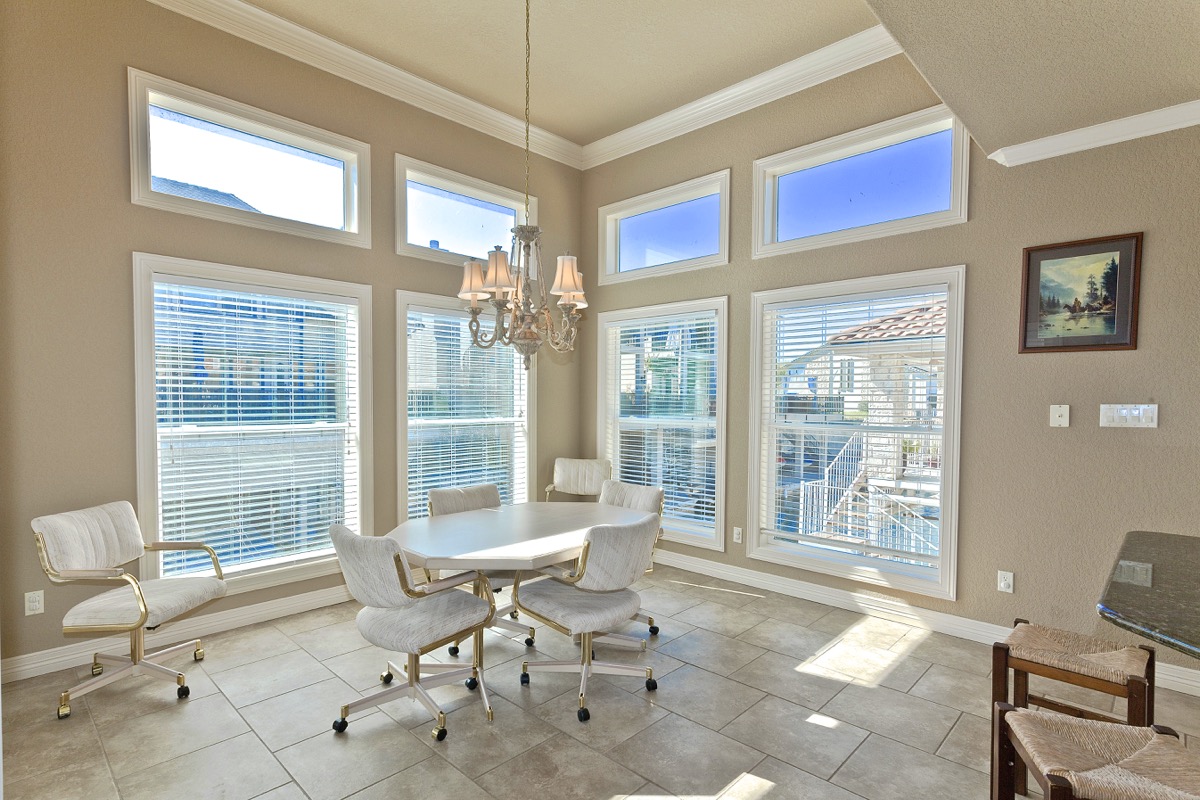 If you are in the market for an excellent investment opportunity in the heart of Horseshoe Bay, look no further! 326 Horseshoe Bay North is a single story, 3 bedroom,3.5 bath home with 55 ft of excellent channel waterfront just off the main body of Lake LBJ. This 2004 home is well appointed with updated kitchen and bathrooms, plus beautiful, open living areas with plenty of natural light. This home was well constructed using the finest material including stone and stucco exterior and standing seam metal roof. The hard tile floors throughout are very durable and can handle dripping bathing suits.
Compare this unit to the many condos that are on the market and you will quickly see that there is no comparison in this price point! Contact us today at (830) 265-7400 for more information on this property or for help with Horseshoe Bay Real Estate!
Your Waterfront Address. Our Passion!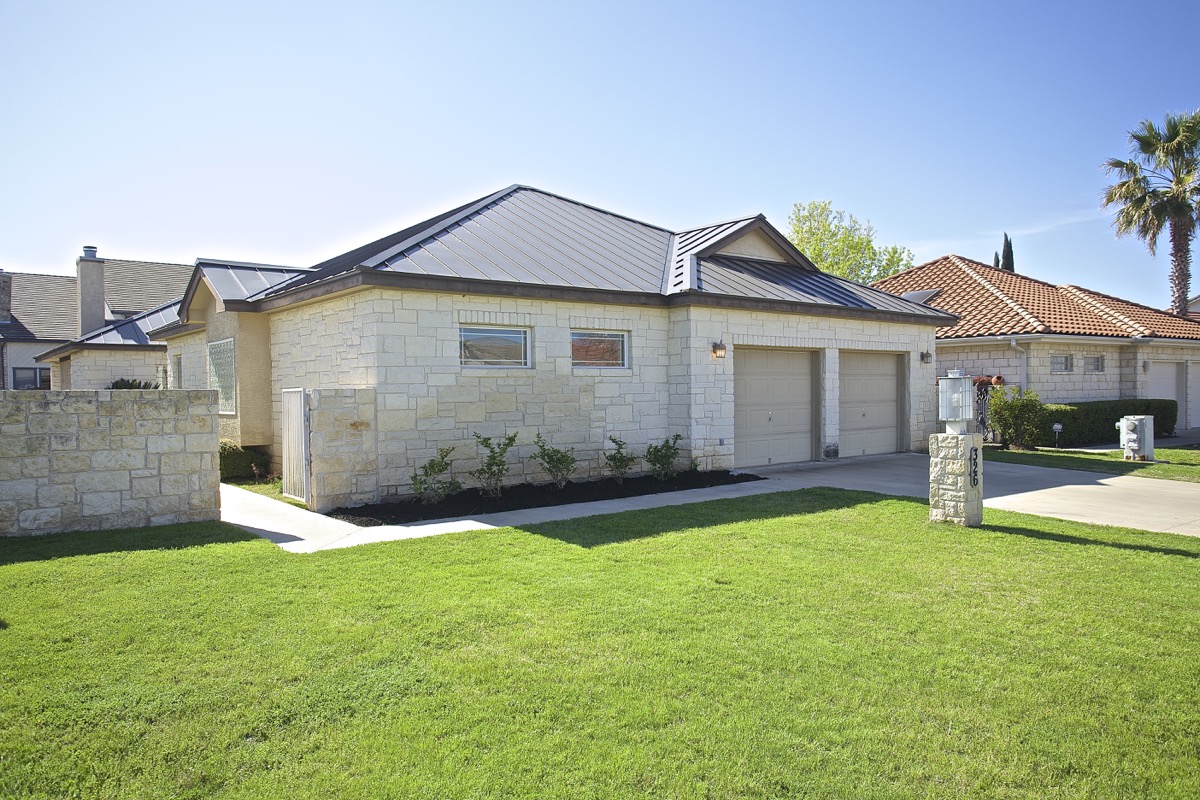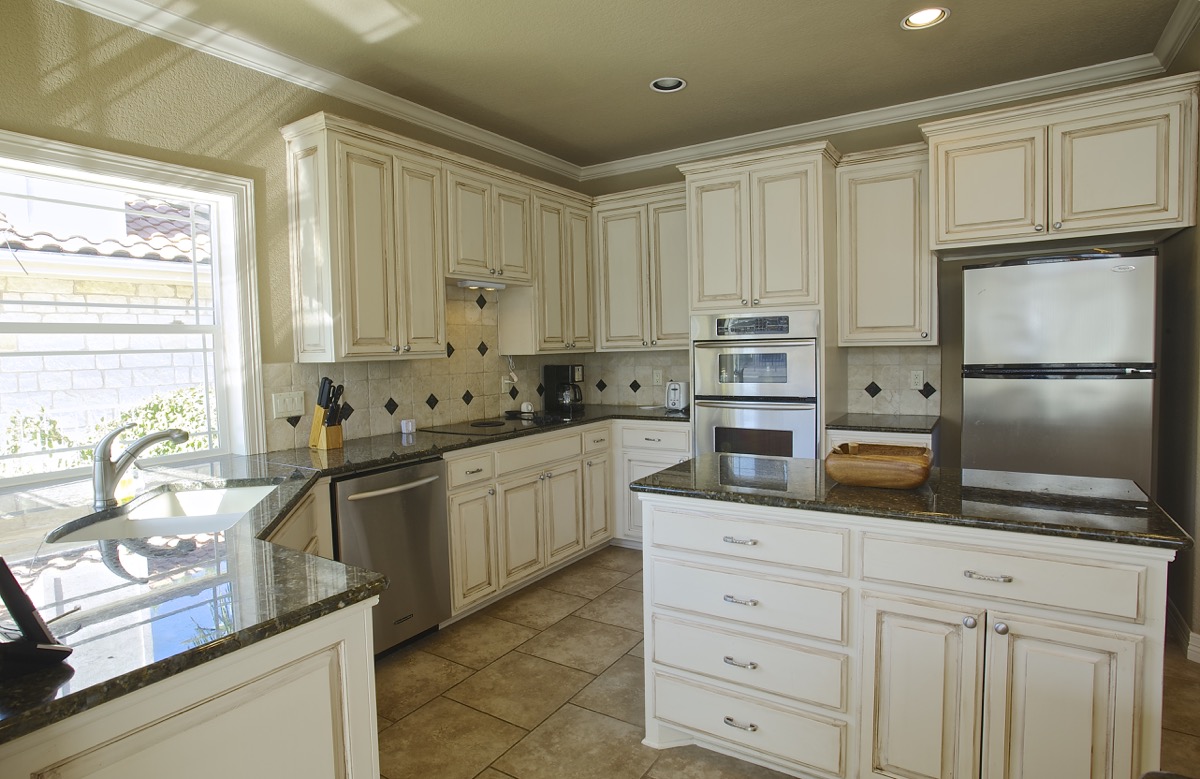 Are you working with an LBJ Expert to find the perfect piece of property or are you just working with a Realtor in the area? Buying a waterfront home on Lake LBJ is a big investment and more importantly a process that is much different than buying a home in the city. Waterfront property is its own animal and there are many things to consider and know when buying Lake LBJ Real Estate. Too often I see homes go pending for way too much money because the agents representing these buyers don't understand the market beyond face value, cost of construction and replacement, value or lack their of in boat houses, the orientation of the property and the type of water that it has. All of these factors matter and its very important that you work with an experienced Broker that will shoot you straight rather than try and make a quick buck.
As your Lake LBJ Real Estate expert I work full time selling only waterfront homes on Lake LBJ. My family has had a home on the lake for over 20 years and I grew up coming here since I was a small child. During that time I became very familiar with the different areas of the lake but more importantly the lifestyle that people are buying when purchasing in the area. When I am not showing property you will find me out on the boat, scouting properties, previewing available listings and familiarizing myself with every property that is available. I also make lists of good properties on the water and then approach the owners about selling to my clients. Each month we send about 3500 mailers to the property owners around the lake so we are the first to know about new listings to hit the market and have relationships with the owners of some of the best properties on LBJ.
I am very active representing buyers and sellers which gives me a good idea of what people are looking for on both ends. This insight and perspective really helps me best represent my clients.
If you are considering the purchase of Lake LBJ Real Estate, give me a call and let me share my passion with you! You can also take a moment to familiarize yourself with my top picks on Lake LBJ and read the comments so you understand my perspective and knowledge of the lake and available properties. I know my stuff and if that is something that you believe can help you buy right then give me a call at (512) 786-1515 and let me assist you.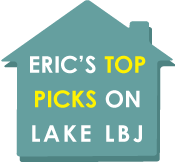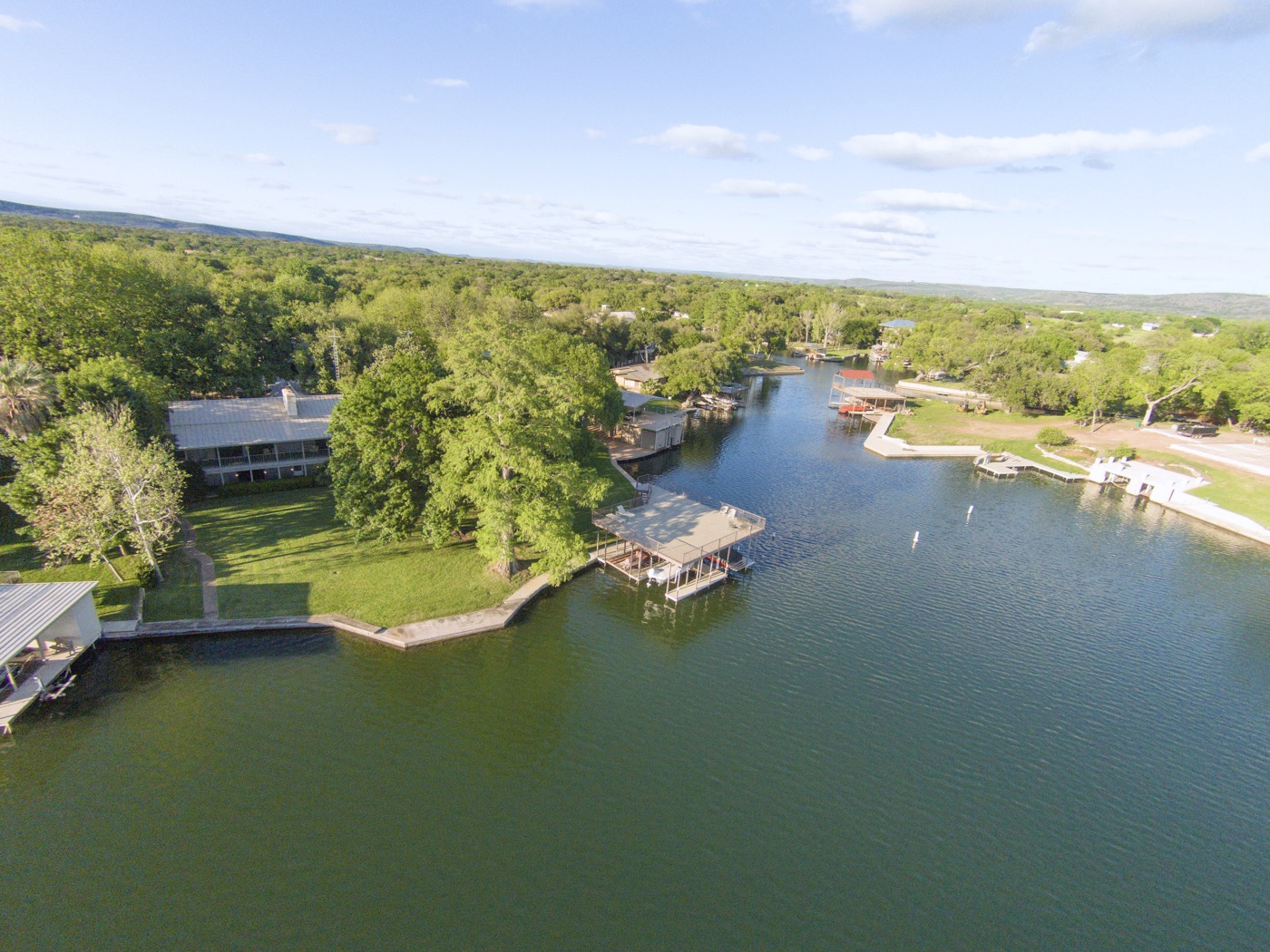 For those of you in search of a once-in-a-lifetime opportunity on Lake LBJ you have to take a look at our newest listing on Lake LBJ. 583 Crestwood is two contiguous, south-facing lots, on the Colorado arm just across from the Legends golf course in Kingsland. On one lot you will find an older home with approx. 3400 sq ft of living space, 3 bedrooms, 4 full baths and two living areas, both with fireplaces with approx 3400 sq ft in total. The home is very livable as is but could also offer great bones for a full remodel. The home has some very nice updates to work with including a newer standing-seam metal roof, updated HVAC systems and Pela wood sliding glass doors along the lakeside and in courtyard. The property is aggressively priced at $1,250,000.
On the second lot there is a newly built two stall boat house with a wave runner lift and second story roof top deck. The entire structure is made of concrete and metal and has an estimated value of approx $125,000 to replace today. Scattered across both lots are some of the biggest and most mature trees you will find on Lake LBJ. While the lots can be split, I believe the highest and best use is to keep together as one and remodel the home or tear down and build. Lake LBJ Real Estate like this is hard to come by and the property is special as one large property. The total waterfront footage for this property is approx 197 ft. Most of that is on the open water but approx 30 ft is at the mouth of a cove offering a great swimming area. The water here is also very deep relative to other parts of Lake LBJ.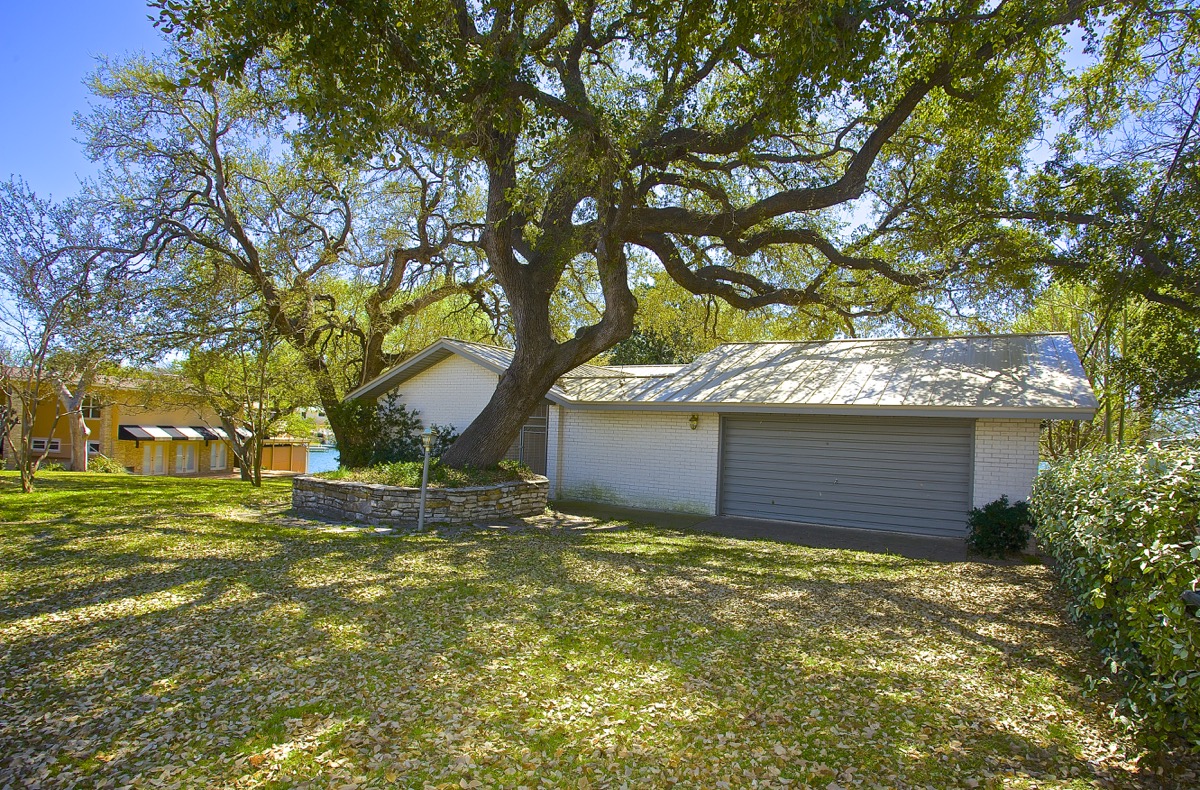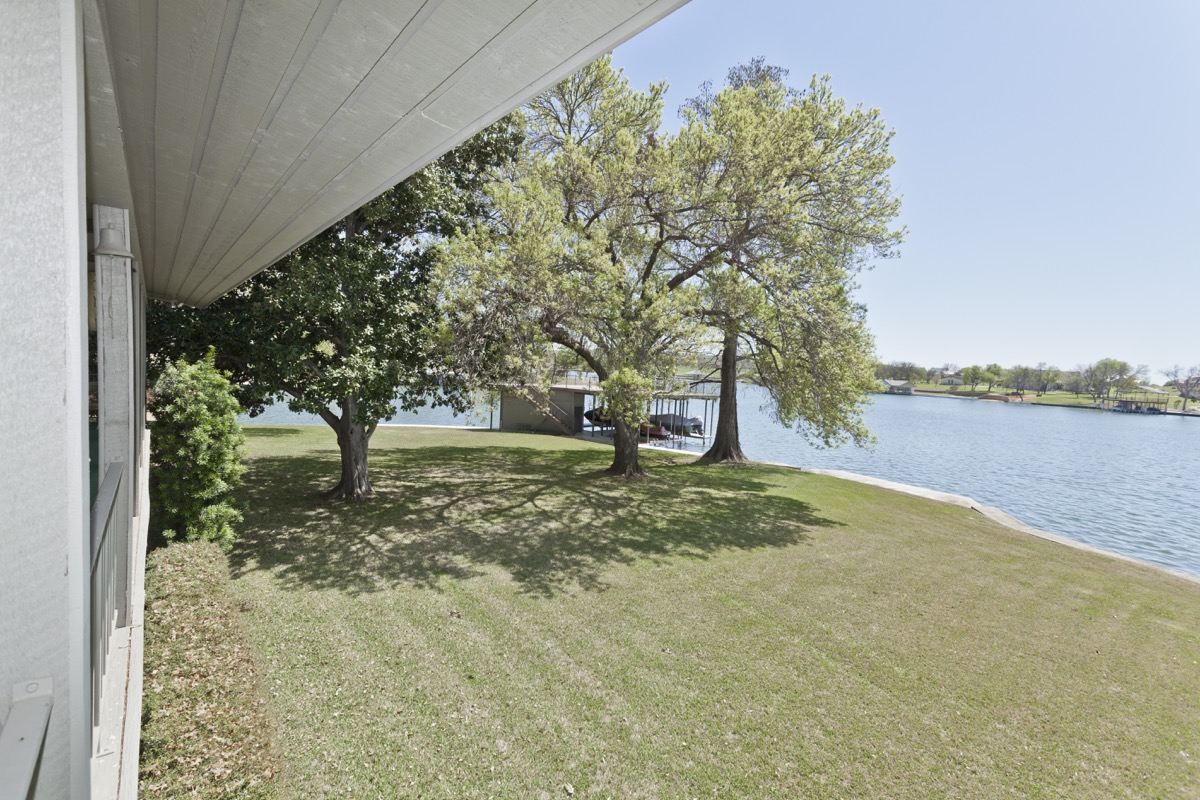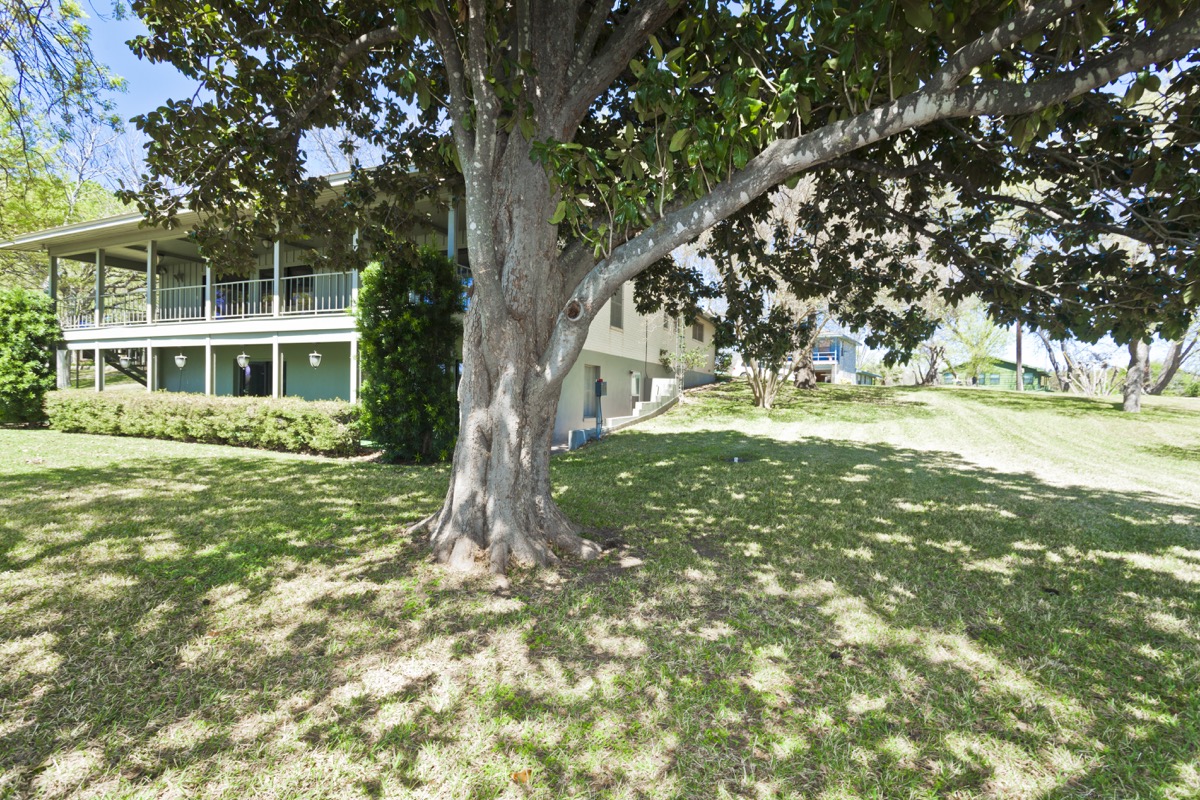 Contact me today at (512) 786-1515 if you would like a first look at this LBJ Pocket Listing or if you have more information about
Lake LBJ Real Estate
.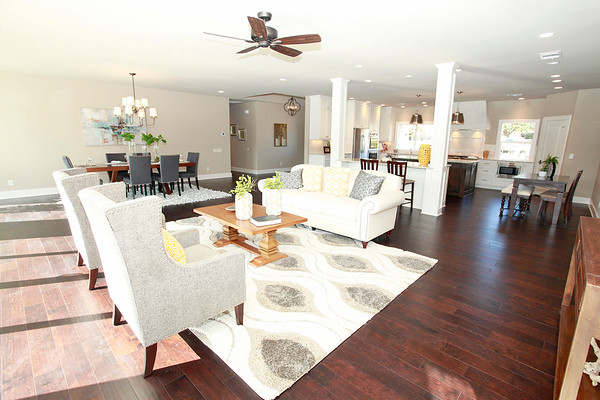 If you are out and about this weekend it might be a great time to check out some Horseshoe Bay Real Estate. On Saturday , February 14th bring your valentine by 108 Starboard and check out this elite waterfront property on Lake LBJ. with 4 bedrooms, 5.5 baths on awesome, east-facing waterfront in the heart of the Horseshoe Bay Resort. This open and very flexible floor plan makes for the perfect waterfront getaway and with the "never-been-swum-in" pool this one will be hard to pass.
Crystal Barrington, associate with the Carvajal Group, will be holding this property open on Saturday starting at 10am and will continue on for most of the day. Come on by and have a look at this magnificent piece of Horseshoe Bay Real Estate! Happy Valentines day from the lake!
#LBJMarketExpert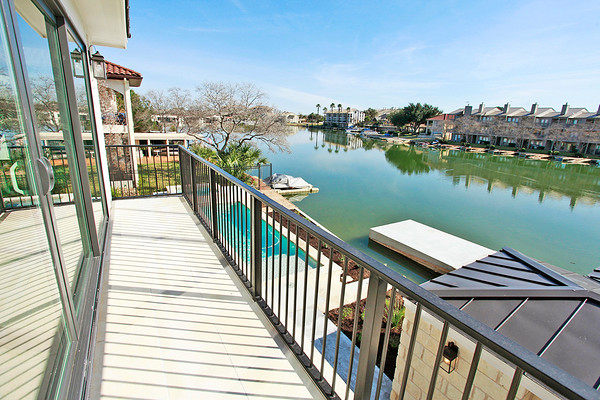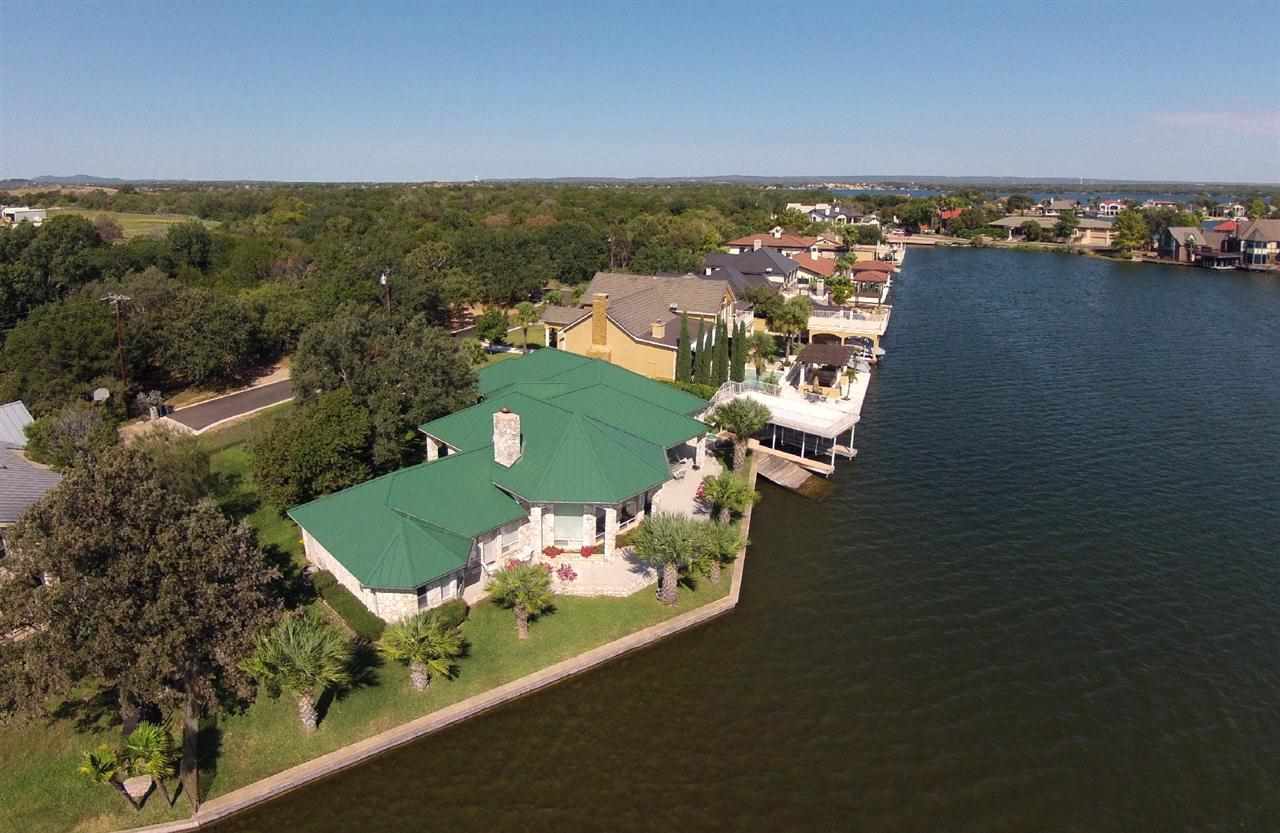 2015 is off to the races when it comes to Horseshoe Bay Real Estate. The Carvajal Group is pleased to announce our most recent success! 211 No Return is now under contract and we are representing the buyer that will be purchasing this excellent piece of Lake LBJ Real Estate.
211 No Return in Horseshoe Bay, was originally listed in April of 2013 at a price of $2,300,000. This home is just under 3300 sq. ft and was built in 1998. The home sits on perfect east facing waterfront on constant level Lake LBJ and contains approx. 150 ft of the best water money can buy. While this home will need some remodel work, when its all said and done this will be one of the best waterfront homes on Lake LBJ.
Finding the perfect piece of Lake LBJ Real Estate can be difficult, especially considering we are experiencing a very strong market and have been for the past few years. Working with a true market expert is the key to finding those "hidden gems". Not only does a true market expert know about every property that is available on Lake LBJ, they are also privy to understanding a realistic price at which deals can be had. If you or someone you know is in the market a perfect piece of Horseshoe Bay Real Estate or a property on any other part of Lake LBJ, give me a call today and let me assist in making a smart investment on Texas' #1 Lake.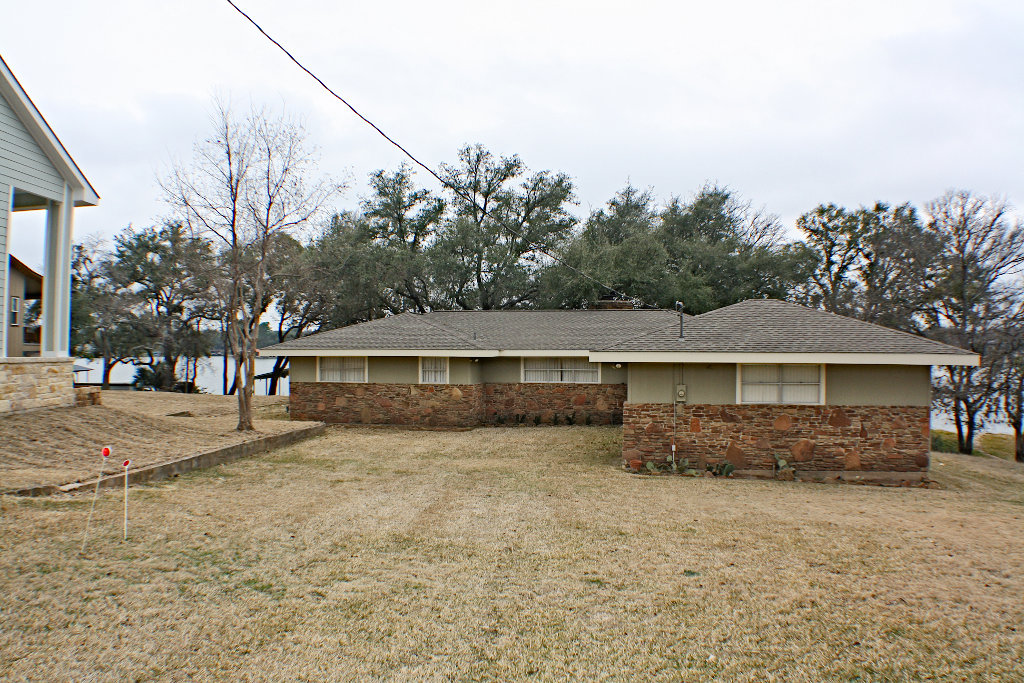 The Carvajal Group is pleased to announce our most recent success with Horseshoe Bay Real Estate! 3612 Pack Saddle is under contract and The Carvajal Group is representing the buyer. This Blue Lake Estates home on Lake LBJ was originally listed on 5/23/2013 at a price of $995,000 and most recently had been lowered to $829,000. You are not going to believe the price at which my clients have this property under contract.
3612 Pack Saddle is a small cabin (1643 sq ft) in Blue Lake Estates, arguably one of the most desirable parts of Lake LBJ. This beautiful waterfront setting is filled with old oak trees and 107 ft of beautiful Lake LBJ waterfront. The home also has a two stall boat house which is being help up by metal piers, offering a true value should the buyers elect to tear the home and rebuild. A new boat house like this would cost anywhere from 85-100k in my opinion. While this home does face west, the back yard is completely shaded with trees offering the perfect lakeside environment to enjoy year around.
If you or someone you know is interested in purchasing Horseshoe Bay Real Estate, contact me today at (512) 786-1515. As your Horseshoe Bay market expert, I have the inside scoop and can help you score a great deal!
We have all seen the price of gas at the pump and have heard about the sharp decline in oil prices and the expectation for a negative effect on the Texas economy. While I do believe that this down turn in the oil market will have some negative effects on some parts of Texas, I believe that it is creating opportunities for Lake LBJ Real Estate.
Overall the economy in Texas is very strong, partially from the benefits of a booming oil industry over the last few years but also because of other sectors as well including technology, real estate, construction, and medical to name a few. While the lower oil prices may keep a few big money buyers and also some lower price point buyers that are tied to or work in the oil fields on the fence, we will also see some good listings come online and motivated sellers. Many properties owners at Lake LBJ have historically been involved in the oil industry and when things get tight, vacation homes are the first to go.
The flip side is that there are still some great, high paying jobs and healthy local economies in surrounding cities such as Austin and San Antonio. Potential buyers are also feeling the benefits of low gas prices putting more in their pockets. Historically low interest rates also push people to invest their cash and not keep it in the bank and also provide for very low holding costs for financed real estate. When you combine these factors its pretty easy to understand why people will still continue to buy real estate but also why property owners, that are tied to the oil industry, may get motivated.
If you are interested in pursuing waterfront homes on Lake LBJ and taking advantage of the current market conditions, contact me today at (512) 786-1515