The Lake LBJ Real Estate blog
When searching for Lake LBJ real estate most of the listings you will see online or that will be sent from your real estate agent (unless it is me) will be properties that are actively listed in MLS.  These properties are syndicated out to various websites across the world wide web like Zillow, Realtor.com and Trulia to name a few for maximum exposure but privacy is compromised.  In 2021 and 2022 the Lake LBJ market was such that most properties, under a certain ultra-luxury price point, needed to be in MLS to get the proper exposure across multiple markets.  Now the market has changed and so must our strategies to selling these properties.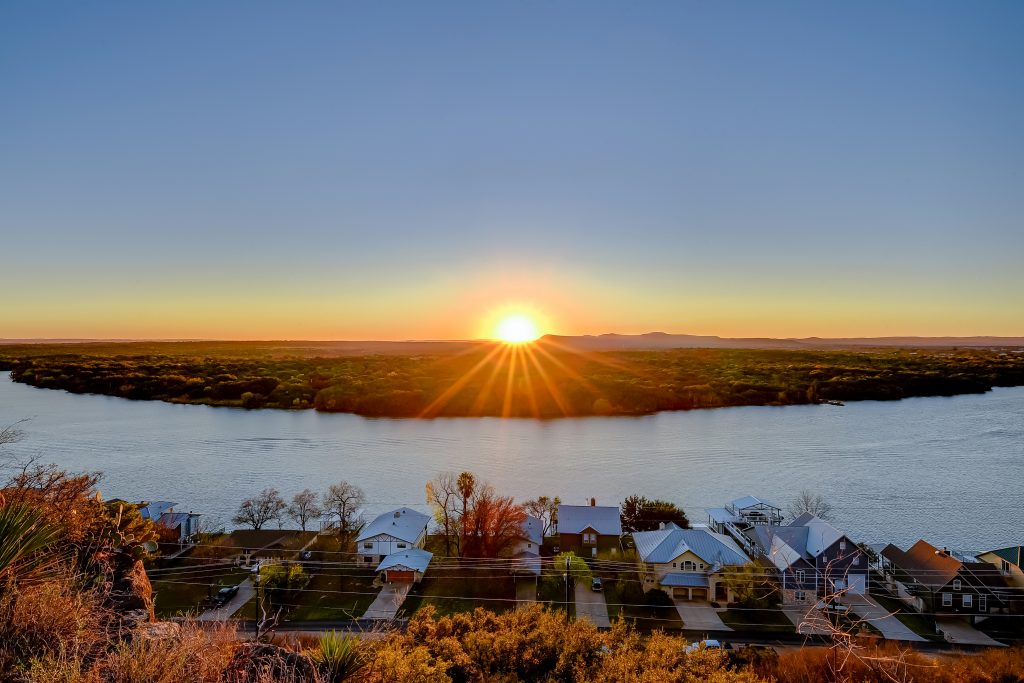 As the local Lake LBJ Real Estate Experts we like to dig up off-market deals and opportunities for our clients, many of which the public will never even know about.  In fact, approximately 50% of the deals we put together on Lake LBJ are private.  This gives buyers exclusive access to unlisted properties, maintains their privacy in a small Texas town, and keeps the sales price hidden from the Tax Appraisal District.  Texas is considered a "Non-Disclosure State" and so the price you pay for a property is private information unless the property is listed in MLS.  MLS rules require agents and brokers that participate in MLS to list the sales price in the database. Unfortunately, this data from listings in MLS is not private and many different entities access the data illegally and share the information (Like the selling price) on the internet.
If you were to look at the current tax appraised values on the Lake they are often times very different than the market value because of the recent uptick in prices since late 2020. As a buyer, withholding the price will allow you to protect the sales price from the appraisal district, helping to keep your property taxes lower.  When there is a large difference in market value and tax appraisal value, buying off-market listings is the preferred option to keep property taxes lower.
Buying Lake LBJ Real Estate is likely the biggest investment many of our clients will ever make. Rather than working with a friend or agent that specializes in another market, choose a Broker that knows Lake LBJ.  As the local real estate Experts we spend all of our time, energy, and resources on everything Lake LBJ. Through this investment we are able to get our hands on off-market deals and opportunities for our clients.  In fact, we are continuously on the hunt for good buys on Lake LBJ. If you or someone you know is in the market for Lake LBJ Real Estate please reach out at (512) 786-1515.  I'd love to help you find yours!
All too often I see poorly represented or unrepresented buyers make bad decisions on the lake, driven by their desire to get the perfect house and not focusing enough on the actual waterfront. The reason you are even considering a  home in this neck of the woods is because of the water.  So why would we not pay close enough attention to that water?
The properties that have the "good water" or the ones that perform the best as investments over time but they are also the ones that don't get sold often, because the owners enjoy and love them, and rarely let them go.  You can always add on, or tear down and rebuild if your lot is good but if you buy a nice house on a bad water then your stuck with what you got.
When I talk about good water, the attributes I am referring too are things like:
-Cove vs Open Water – This will typically dictate the amount of boat traffic that passes in front of the property to get an idea of how rough the water will be. Open water and Cove-protected water have their pros and cons but understanding these differences will help you buy right for your needs
-The Lake Bottom – Is the bottom slimy? mushy? or a perfect crushed granite that is ideal on the feet? If you plan to swim in the lake you want to make sure you have a good, swimmable area to do so.  Wives don't like MUCK!
-Flood Plain – No one ever likes to talk about floods but this is important to understand the ramifications.  Most newer homes on the lake are built to flood compliance so flooding is not an issue but understanding worst-case scenarios and what all will be at risk in the case of a natural event.
-Property Orientation – Which direction does the waterfront side of the property face? North, South, East or West?  This will determine the type of interaction the property will have in the sun.  There is no right or wrong answer here but some orientations can be more desired and thus more valuable than others.
As the local Lake LBJ Real Estate Expert we help our customers make wise decision at the lake.  We don't just sell here but we actually live right right, on the lake and have the expertise to help you buy, sell and own right.  Leverage our experience to ensure your dreams on Lake LBJ come true.  Reach out today at (512) 786-1515 if I can be of assistance.
One of the BEST waterfront tracts on all of Lake LBJ.  I would put this piece of Lake LBJ Real Estate up against most any property on the lake.  South-eastern orientation with 120 feet of prime frontage on one of the widest sections of the Colorado Arm of Lake LBJ. The lot is large at approx. .6 of an acre and has ample room to build a single story home up out of the flood plain (which is rare on the river).  This lot could also be subdivided into two separate tracts which would make for a fabulous development opportunity.  Believe me when I say that this one is GOOD! Qualified buyers reach out for more information or to learn more about Lake LBJ Real Estate at (512) 786-1515.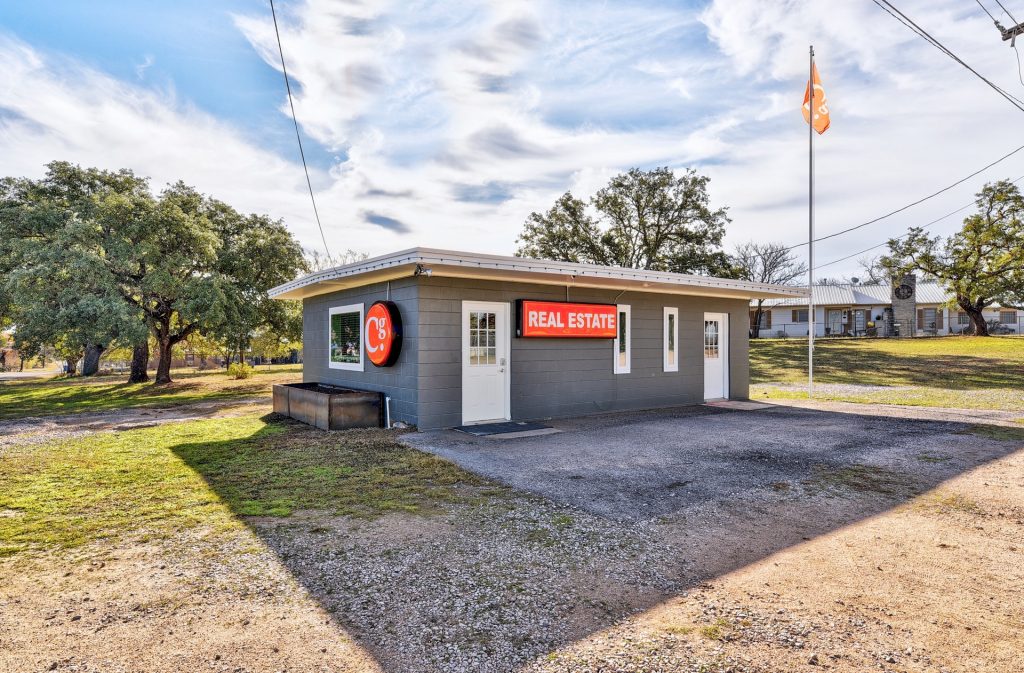 The last two years has been nothing but craziness in the Lake LBJ Real Estate market and it seems like anyone and everyone with an active real estate license was out selling waterfront property.  We saw clients in all price ranges being represented by out-of-town agents that have never owned on Lake LBJ, much less ever been on Lake LBJ.  Poor representation in a market like Lake LBJ can be very costly and can lead to someone owning a lake house they wish they never purchased.
Lake LBJ Real Estate its own unique Beast. There are so many important factors to not only consider but to actually pay very close attention too!  Things like the property orientation and how it interacts with the morning and afternoon sun, the texture of the lake bottom below the surface of the water, open water vs cove protection, and the community the property is located in are all extremely important factors that should be accounted for in your decision to purchase Lake LBJ Real Estate.
As a Local Real Estate Expert I don't just sell Lake LBJ Real Estate but I actually live here locally, on the water, and have the competence to properly represent buyers in sellers in my very unique market.  We have sold hundreds of millions of dollars-worth of real estate right here on Lake LBJ and we also manage over 20 luxury homes for our clients.  We have a deep understanding of the ins and outs of Lake LBJ Real Estate, a direct insight into how these homes live, and a knowledge base from years and years of hands-on experience that our clients can leverage for their benefit.  I have also owned various waterfront properties on Lake LBJ through the last few years and I am currently heavily invested in the local market.  We put our money where our mouth is!
When choosing the right Real Estate professional to represent you and your family on Lake LBJ remember that experience matters. You are investing your hard-earned money in a market that has many intricate details and factors that play into the utility and desirability of a given property.  You owe it to yourself to say no your "Friends that's a Realtor" and hire a true local expert.  Not only do we guide our clients throughout the process and help them nagivate the tricky market but we also bring PRIVATE deals and opportunities that are not available in the local MLS.
My team and I would love the opportunity to share our passion for Lake LBJ Real Estate with you.  If you are ready to be represented by the Lake LBJ Real Estate Expert then reach out today at (512) 786-1515.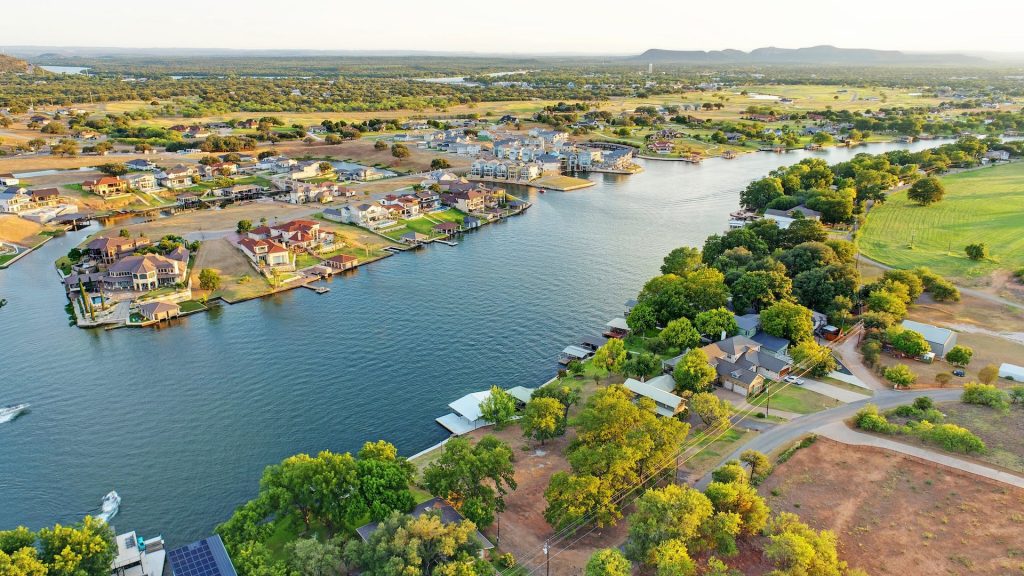 I am not sure if you have noticed lately, but the Colorado Arm of Lake LBJ is officially blowing up! A short cruise up-river and you will notice new construction, after new construction with more under construction. Pay close attention to the size of some of these stately Lake homes; I am starting to think there is more money on Lake LBJ in Kingsland than there is in Horseshoe Bay.
In recent years developers have flocked to this unique environment to capitalize on the prime real estate, with good infrastructure already in place and minimal regulations. Kingsland is not a municipality but rather is just a name given to the unincorporated area that lies on the border of Burnet and Llano Counties. The Kingsland MUD has a full sewer system in place which allows property owners to maximize the building envelope without having to account for large septic drain fields.  With the increased popularity in Short Term Rentals, Kingsland has become the "Port Aransas of Lake LBJ" frequented by visitors from all over the State of Texas.  For investors looking for cash flow opportunities you cannot go wrong investing in Kingsland.  There is a very strong demand, and an overall limited supply of lakefront rentals on Lake LBJ.
In my experience, some people are "Main-body" people and others are "River People" and there really is no rhyme or reason why they choose one over the other. All Lake LBJ Real Estate is incredibly beautiful and both have their strong points. We are big believers in the Kingsland market and are excited to see what unfolds here in the future. Things are definitely looking Bright!
If we can be of assistance helping you buy, sell or own Kingsland Real Estate please reach out at (512) 786-1515.  We look forward to hearing from you!

If you are a Lake LBJ waterfront owner- septic knowledge is important. Important while you enjoy your home and even more important at the time of sale. Always make sure your Realtor reaches out to the LCRA and requests re -inspection paperwork prior to listing the home on the open market. This paperwork is vital for several reasons. This paperwork will disclose the last time LCRA performed an inspection, who the owner of record is per LCRA, tank and drain field preparation items to be completed prior to scheduling inspection. At this time, a diagram is provided of the property to show where the septic tank(s) are located, drain fields etc. Very important information that I find serious prospective buyers will ask AND a third-party septic inspection company will need in order to locate the tank cover. Knowing what the house is rated for is imperative to make sure the size of the septic system is sufficient for the number of beds in the home.
If the current homeowner is not the owner on LCRA paperwork; form 1100 is required to be filled out which is also known as a continued use application. This just means the paperwork was not submitted to the LCRA at the time the homeowner purchased the home. Not a huge deal, just additional paperwork.
Next, is the reinspection application. With this, you will need the house floor plan. Does not need to be to scale but will need to include all rooms (kitchen, living room, flex room etc), bathrooms and closets. In this sketch make sure you include the address of the home, number of bedrooms/ baths and heated/cooled square footage of dwelling.  If the house is not actively in the MLS for sale, you will need to provide a letter providing the number of bedrooms. If you have it listed for sale, you can provide the MLS listing.
If you have an aerobic treatment system- requires an O & M contract, you will need to provide this contract as well. Operation and Maintenance contract is when a third party septic company does inspections to ensure the septic is in good working order. If your system requires a maintenance contract and you do not have one in place you will not be able to call in for inspection.  I have found it can take 10-15 business days to set a company up, pay a fee and have them do their own inspection, write a report and submit it to LCRA.
Once this is complete, you will submit it online to LCRA. LCRA will then review and if all looks good, will send you an email asking for you to remit the application fee of $150.00. Once that is paid you will send the checklist provided to you by LCRA to a third party septic company that is well versed in septic inspections. They will prep the system/drainfield as outlined on LCRA checklist and call in for inspection.
When buying, selling or owning Lake LBJ Real Estate it is critical to work with a Local Expert that has a proven track record of success to avoid costly mistakes. Reach out today at (512) 786-1515 if we can be of assistance.
Check out our listing at 106 Cardinal on Lake LBJ.  Our video marketing team did an incredible job showcasing this fabulous property but I can assure you she looks even better in person.  Reach out to schedule your tour or if we can help you with your Lake LBJ Real Estate Search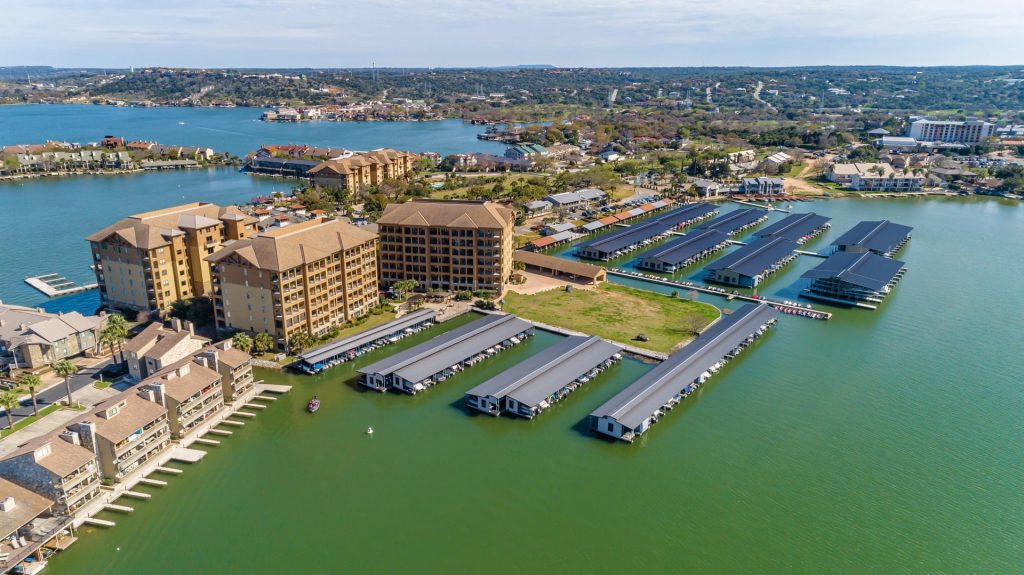 The Club at Horseshoe Bay Resort celebrated 50 years of success in 2021. With a bright future in mind, the Resort recently completed $100 million of capital improvements on everything from hotel rooms and landscaping to their golf courses. Included in these improvements is the Caprock Clubhouse which was honored with Golf Inc. Magazines Private Clubhouse of the Year award. The Club prides itself on connecting members, hosting annual and monthly events to get everyone involved.
Owners of improved Horseshoe Bay Real Estate within the resort defined boundaries  can save up to $65,000 on initiation fees. Entry level memberships start at an initiation fee $12k and $285/month for the Society Membership. This includes access to Bayside Spa & Salon Services, Marina & Ship Store, Pools and poolside cafes, Restaurants, Jungle Kids Club and member social activities and events. The top-tier Summit Membership for the golf enthusiast includes access to 72 holes of championship golf and exclusive medallion member events. There is truly a place for everyone at the Resort.
The 8 dining options at the Resort will satisfy all your food and beverage needs. The Yacht Club, which is located on the banks of Lake LBJ, serves fresh upscale cuisine. The new J's Restaurant and Bar serves Texas BBQ and offers a great spot to enjoy happy hour. The Whitewater 360 Sports Bar offers pizza, wings, cold beer and hand-crafted cocktails. Looking to drive your boat to dinner? The Waterfront bar and grill provides convenient boat slips directly in front of the restaurant and sweeping views of LBJ. Once you've filled up your belly, head on over to the Y-bar for live music on Friday and Saturday nights! When you're looking for a special night out with your significant other, drop the kids off at the jungle kids club.
The private Marina on Lake LBJ offers members convenient access to annual or daily boat slip leases. Members and Resort Guests enjoy personal watercraft and boat rentals, boat storage, hydrohoist boat lifts, fuel services, trailer storage, and boat concierge services.
The Paseo Fitness center provides members 24/7 access to cardio equipment and free weights. This is located in the center of the resort next to 8 world-class hard tennis courts and six UTSA certified clay courts. Tennis lessons, League play and all levels of weekly games can be enjoyed here. If pickle ball is more your style, there are 8 brand-new pickle ball courts with a full calendar of tournaments to enjoy.
For those looking to enjoy a more relaxing experience, the Bayside Spa and Salon has you covered. Offering everything from soothing stone massages to body contouring treatment the Bayside Spa will have you feeling blissful in no time. Over at the Salon you can expect everything from precision cuts and coloring to special occasion makeup and hair styling.
An abundance of pool access includes the Tower which is heated for those chilly months, Paseo conveniently located behind the fitness center and the Caprock pool with incredible views of the Texas Hill Country. For those members looking to get in Lake LBJ, Stargazer and Turtle beach offer easy access with maintained grounds and infrastructure.
Members with entertainment in mind have access to a variety of venues to celebrate with family and friends. Including; numerous lakeside lawns, the 10,000 sq ft Palm Pavilion and the Palm D'Or featuring a covered stage surrounded by lush gardens.
Easily access the Resort by water, land or air! The Private airport features a 6,000-foot lighted runway which can accommodate all personal and business aircraft up to a Regional Jetliner. The Jet Center offers full service FBO, fuel services, hangar space and an experienced  crew to make your trip hassle free.
When you are in the market for Horseshoe Bay Real Estate, you need the Local Experts on your side. We know Horseshoe Bay.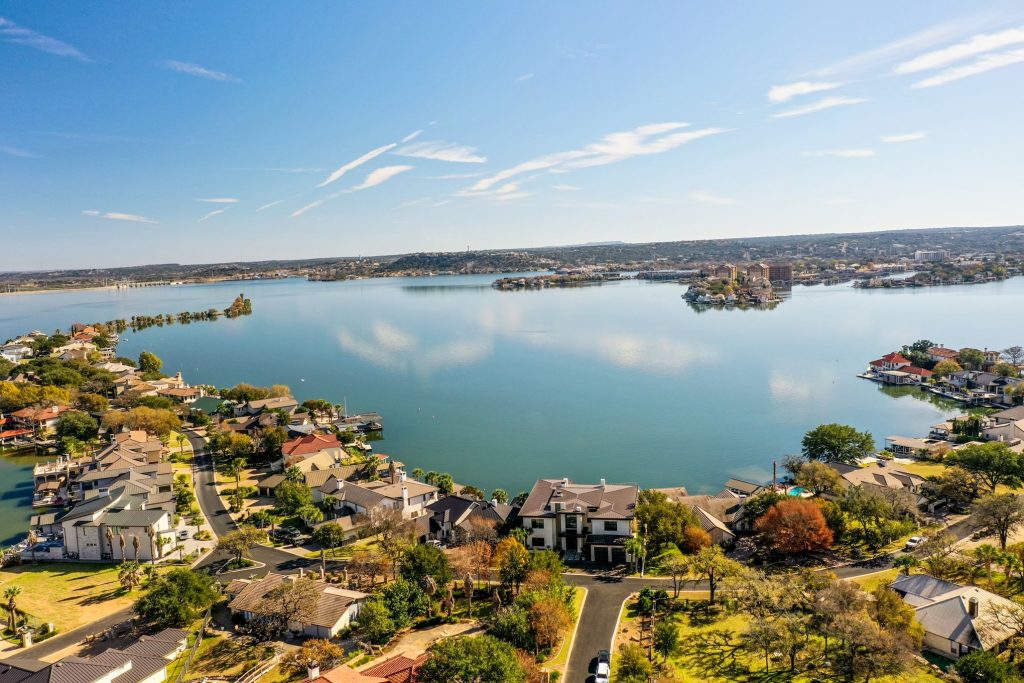 Warren Buffet once told stockholders that the best things a person can do to protect against inflation are to sharpen their skills and work to be at the top of their field. "If you're the best teacher, if you're the best surgeon, if you're the best lawyer, you will get your share of the national economic pie regardless of the value of whatever the currency may be".  We believe the same holds true for real estate.
High inflation for the foreseeable future is no secret and savvy investors often times look to real estate to protect their capital during these volatile times.  Investing in PRIME property in highly desired markets ensures that the value of that property will at minimum keep pace with inflation.  In a market like Lake LBJ buying GREAT waterfront is a sure bet.  Putting your capital into tangible assets with low supply and high demand seems like a wise thing to do.  But knowing which properties are the best takes experience and local expertise.
As the local waterfront real estate experts on Lake LBJ we understand the ins and outs of Lake LBJ Real Estate and can help buyers sift through the opportunities to pick the winners.  Now, more than ever we see buyers engaging real estate professionals from out of town to help them buy real estate locally and to us this seems like a huge mistake.  How can someone that does not live or own on Lake LBJ give you advice on what is good and bad? If they aren't here full time pounding the streets to find deals and opportunities how can they ensure you are seeing all the available properties?  The answer is "They cannot".
If you are looking to buy real estate on Lake LBJ and want the expertise and help of a local professional that is involved with numerous transactions year over year and has a strong understanding of the characteristics and qualities that make great real estate in our market engage our team to give yourself a real advantage.  We don't just sell here but we live here and we have the EXPERTISE to help you buy and sell right.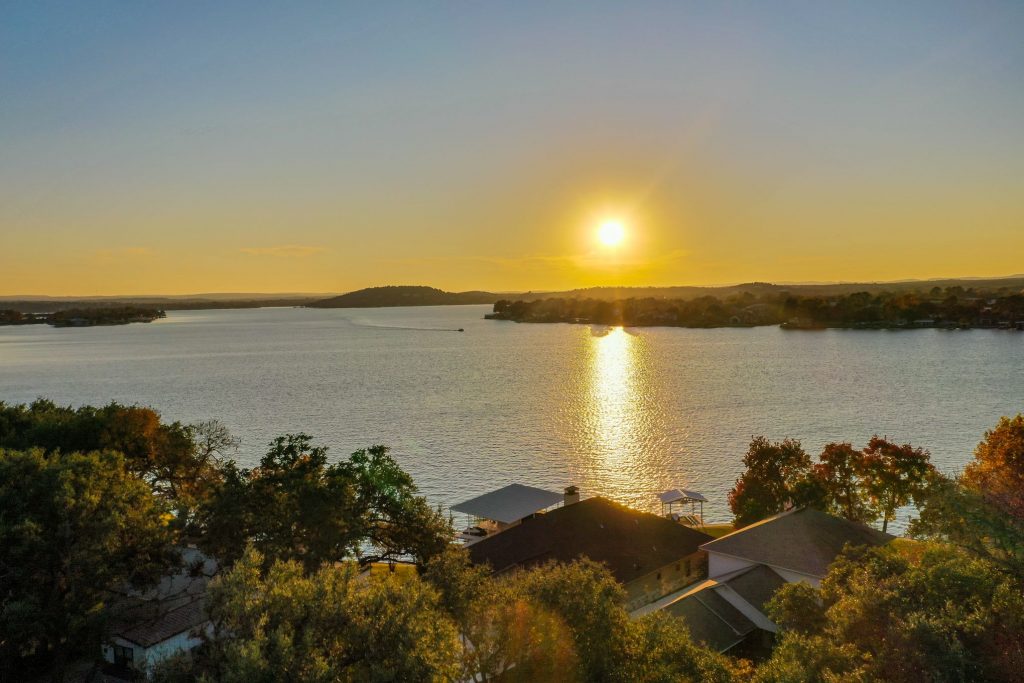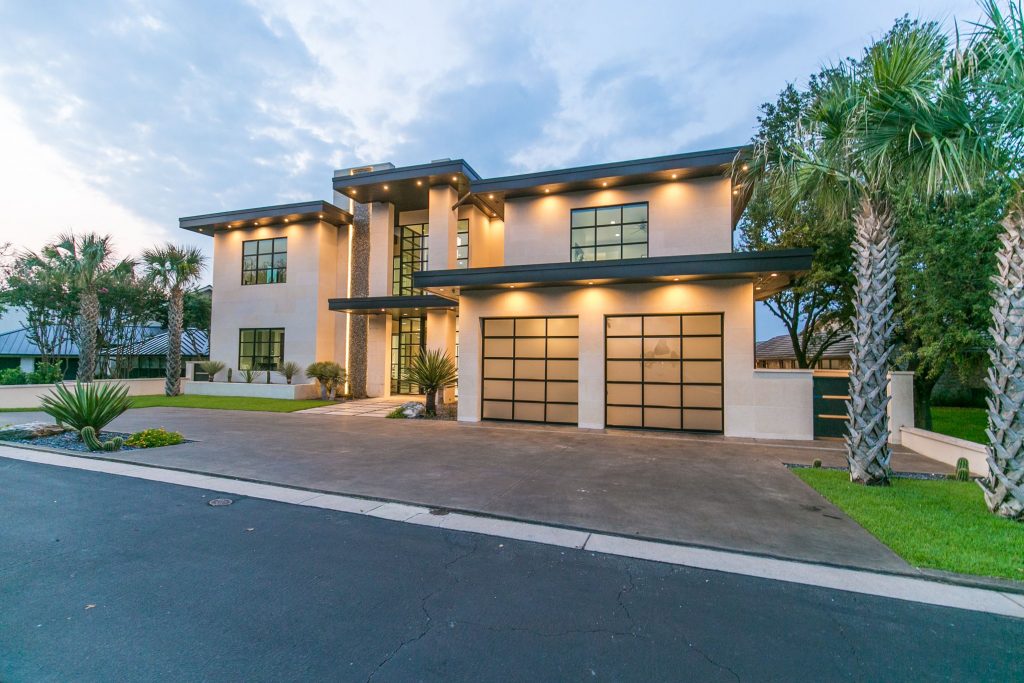 One of a kind home on coveted Lighthouse Drive, in the Horseshoe Bay Resort which boasts 8,356 square feet with 5 beds, 5 full baths and 3 half baths that is carefully situated on 93 feet of Southeast facing prime waterfront. A worry free landscape consists of newly planted grass, trees, shrubs along with artificial turf on the side yards. The outdoor living areas are a water lover's delight with 2 big screen TVs, covered living and dining areas, outdoor fireplaces and a beautiful infinity edge pool with the lake as your backdrop. You can also sit in a covered area lakeside watching the wildlife as you enjoy the breathtaking sunrises each morning. The front entry has a double sided waterfall that greets you and your guests as you enter the spacious living areas. Upon entry, you can look through the wall to wall sliding glass doors that bring the outdoors in. Entertaining guests is a breeze with the multiple bar and sitting areas that utilizes a fantastic AV system connected throughout the interior and exterior of the home. The gourmet kitchen is a hosts' haven equipped with 2 Thermador refrigerators, a full size wine cooler, Miel stove, oven, warming drawer, microwave, dishwasher, and coffee maker. A butler's kitchen is also equipped with a refrigerator, stove/oven, dishwasher and microwave. All the luxury, hand selected pieces of furniture are conveyed with the home. For the discerning buyer that seeks the Best in Lake LBJ Real Estate this incredible property surely tops the list.
Property Specs:
8356 Sq. Ft
5 bedroom, 5 full baths, 3 half baths
2 Living Rooms, Multiple outdoor living areas
93 Waterfront Feet