800 Waterfront Feet on Lake LBJ. Imagine that!
Posted by Eric in Everything Else on Jun 8, 2016
If you are looking to invest in a blue chip waterfront property on Lake LBJ hear me out on this one. Â Properties with this much waterfront are few and far between. Â In fact, there are maybe 5 on the entire lake. Â When you think about the true scarcity of special properties like 808 Misty Downs it only makes sense to see this as a strong investment opportunity.
808/810 Misty Downs is a 2 tract offering on Lake LBJ with a total combined waterfront footage of approx. 800 ft:
Tract 1: 808 Misty Downs – With approx 350 ft of waterfront on Lake LBJ, this one-of-a-kind lake cabin is something straight out of magazine. Â This single story home is a 3 bed, 2.5 bath plus additional living/study with just under 2800 sq ft of heated and cooled space overlooking a park-like setting. Designed by a well known landscape architect, the landscape was strategically designed to draw your eye to the unspeakable views of historic Pack Saddle mountain. Â You must see estimated to be 85 year old cypress trees in person to really understand their age and size. Â Those very same trees provide a perfect blanket of shade protecting the property from the afternoon sun and perfectly framing the most magical sunsets I have ever seen. Â Believe me when I say there is nothing else like it on Lake LBJ.
Tract 2: Â 810 Misty Downs – Adjacent to tract 1, is the last house on the street and the tip of the peninsula on Misty Downs. Â With approx 450 ft of waterfront on Lake LBJ and a 2 bed, 2.5 guest cabin, this unique waterfront tract is the perfect compliment to Tract 1 above. Â Although I believe the highest and best use is to keep these properties together, this special tract offers great flexibility in that it could easily be sold off for top dollar should the owner decide to do so. Â I would love to see the buyer complete the landscape and continue the crushed granite paths on tract 2 as the perfect compliment to tract 1.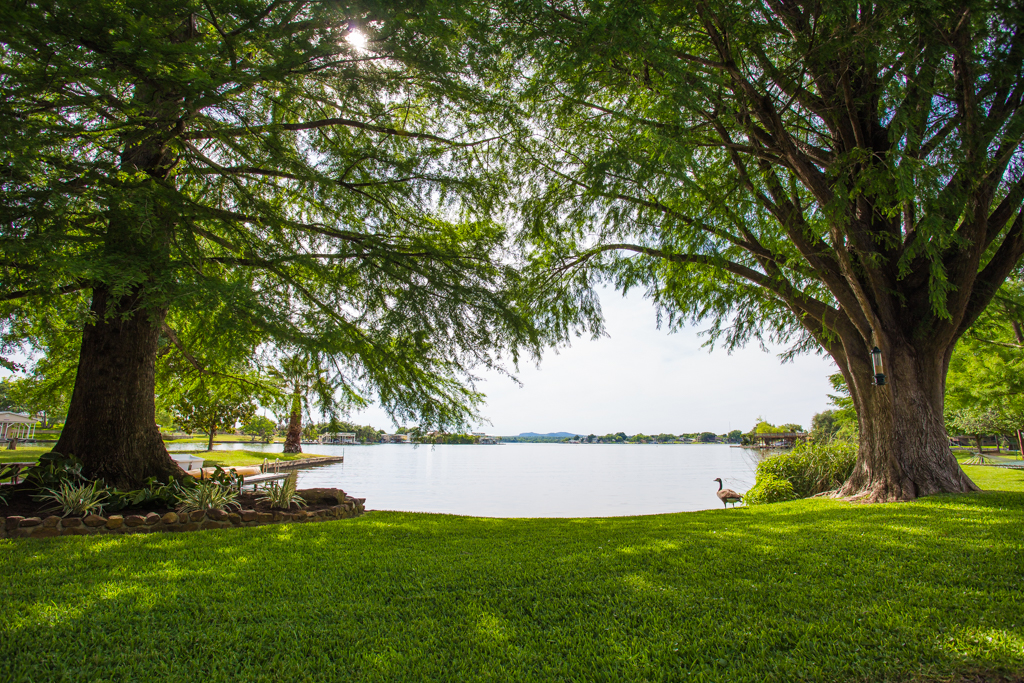 In order to further understand the value of this unique opportunity we must talk about the trees. Â This property has some of the best trees that can be found anywhere on Lake LBJ. Â In fact it is estimated that these towering cypress trees are 85 to 90 years old. Â More importantly they were perfectly positioned on the property to protect and shade the property from the afternoon sun while perfectly framing the surreal views of Pack Saddle mountain. Â I used to believe that east facing properties were the most valuable but after listing 808 Misty Downs I have come to realize that the best properties actually face west but have ample tree coverage for shade while still allowing for magical sunsets.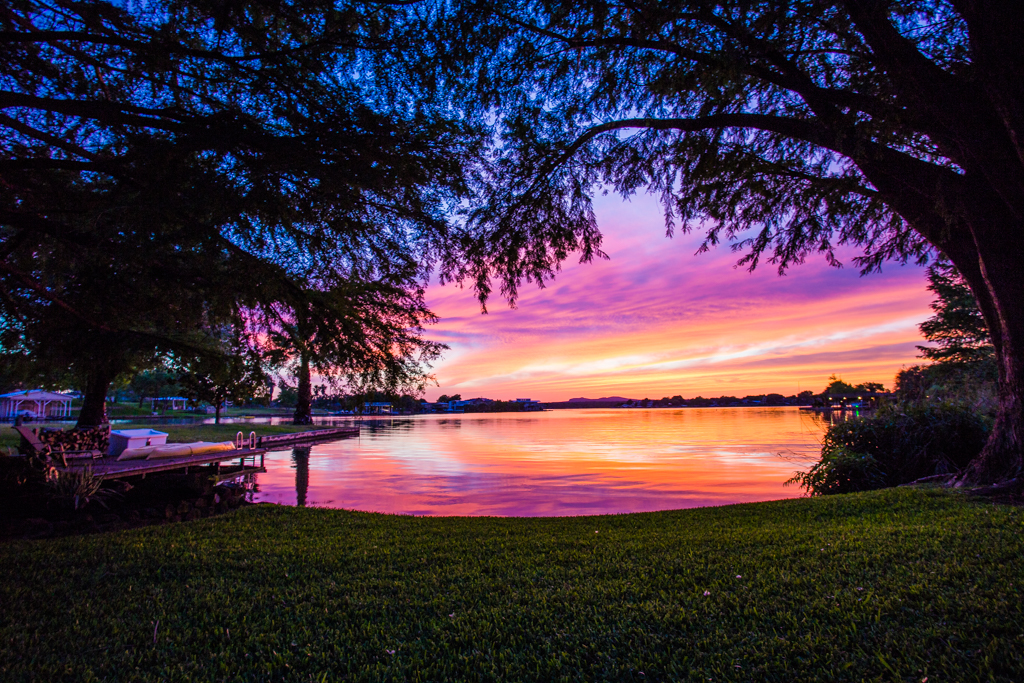 Perfectly placed on tract 1 is a single story home, handicap accessible with approx 2800 sq ft, made up of 3 beds, 2.5 baths + bonus room (study, secondary living room, etc.). Â The current owners built this home in 1994 paid so much attention to detail in creating this one-of-a-kind lakefront setting. Â Soaring ceilings, beautiful wide-plank hardwoods, and a gourmet kitchen to die for are just a few examples of what set this property apart from others on Lake LBJ. Â The size of this home is perfect!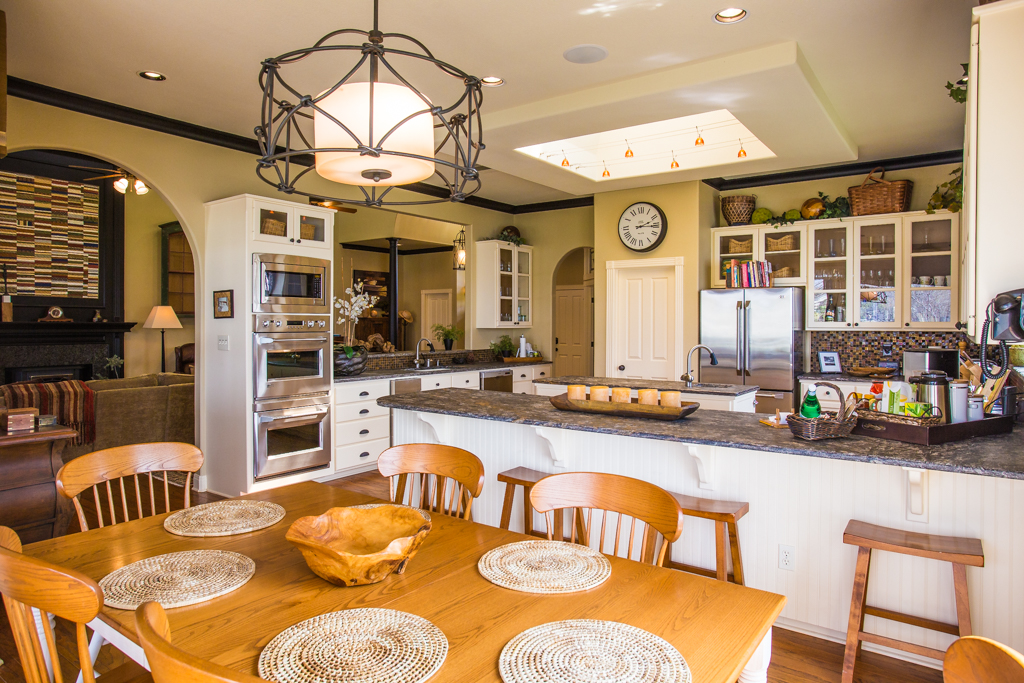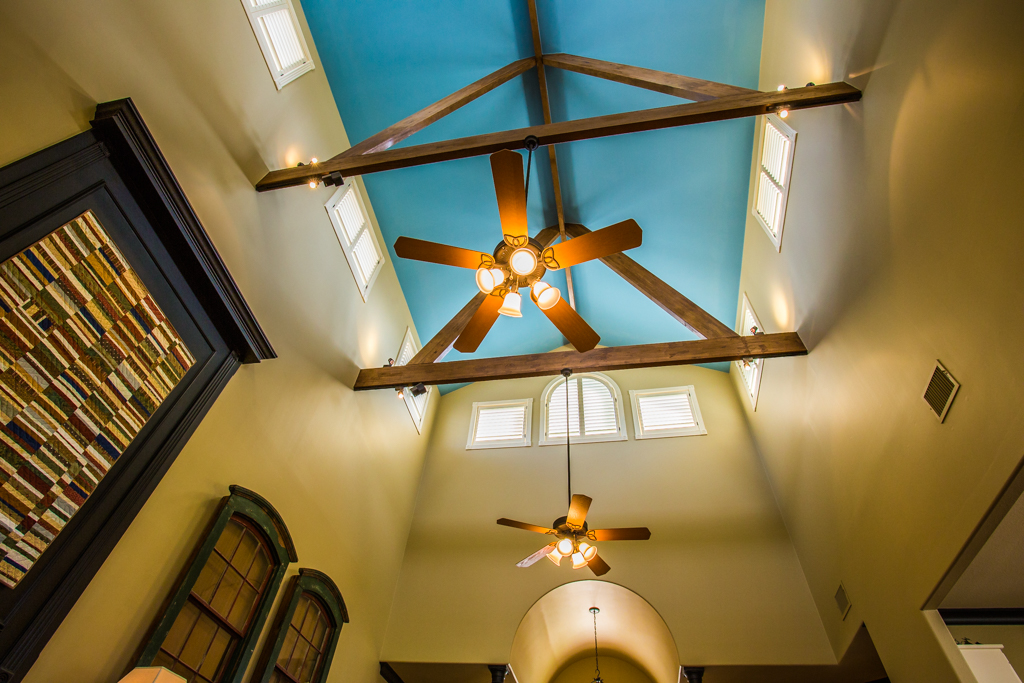 On tract 2 is a well built 2 bed, 2.5 bath cabin, completely lined with redwood on the interior and offering huge views of Lake LBJ and the Texas Hill Country. Â This quaint cabin would make a great place to house family and friends or could also be used as a rental property for additional income. Â The cabin was constructed in 1985 and has been upgraded with new carpet and windows.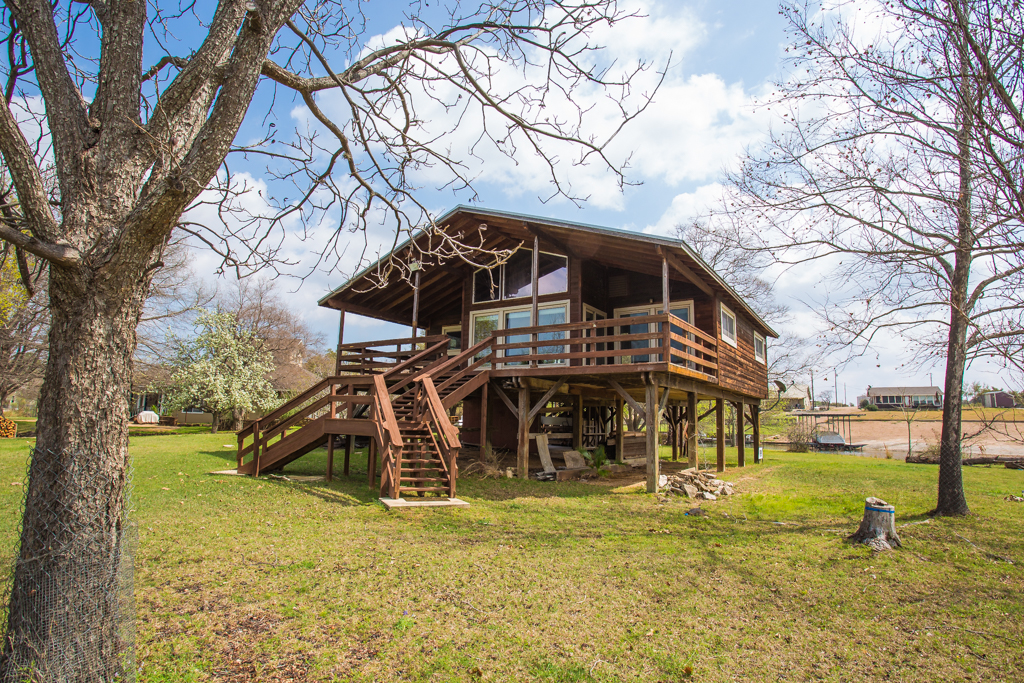 This property really is unlike anything you will find on Lake LBJ or anywhere in Texas. Â As Texas continues to boom and thrive the demand for choice waterfront properties on Lake LBJ will increase. If you or someone you know is looking for something that is truly special and unique, 808 Misty Downs is one you must see. Â We posted a short HD VIDEO below highlighting the property:
Contact me today at (512) 786-1515 to schedule a private tour of 808 Misty Downs or for assistance with your Lake LBJ Real Estate Search.