306 Problems, Don't Let Pricing Be One!
Posted by Eric in Granite Shoals, Kingsland, Lake LBJ Real Estate, Marble Falls on Nov 6, 2012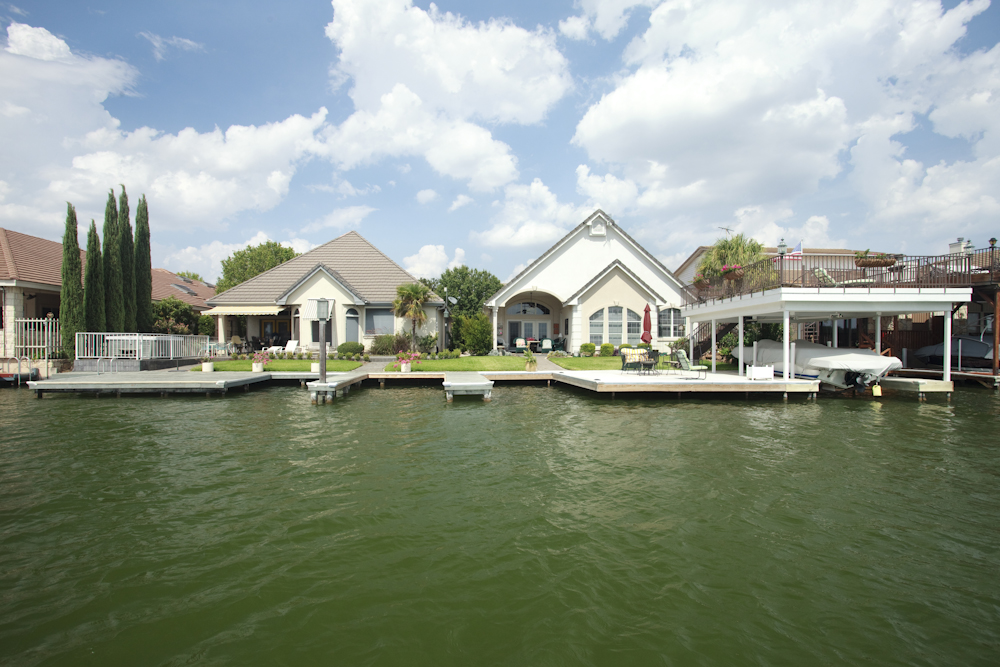 Currently there are 306 active, waterfront homes on Lake LBJ for sale ranging from $69,000 to $7.9 million. If you are even considering the sale of your home you must first understand the mentality of the buyer (and rightfully so). The buyer has options when it comes to Lake LBJ Real Estate. 306 of them to be exact. The buyer is smarter with their money and is looking for a good investment because there exists supply.
Good properties on lake LBJ will sell fast if they are priced right. Good properties on Lake LBJ will take a very long time to sell and will sell for much less than they are worth if they are priced wrong.
Take a moment to browse through some of these waterfront listings on Lake LBJ (if you even need to) to understand that there is a good amount of inventory and if you want to sell, you must make your property attractive to the waterfront buyer. When your trusted Lake LBJ real estate professional gives you sound advice about how to price your waterfront home on Lake LBJ, pay attention because Eric Carvajal knows the market. I am active, not only working with a good amount of waterfront buyers but also walking my dog in the neighborhood and cruising around Lake LBJ on my bike. I am living and breathing Lake LBJ real estate and it takes that type of passion, vision, and experience to truly understand the market. Does an agent really know the market if they have not been out on a boat on Lake LBJ this year?
When someone calls me to sell their home, they are essentially asking me to tell them what I think I can sell it for and how much it will cost. I am never looking to take on a listing I don't believe in. I want to sell good properties to good buyers at a good price. Thats a deal and deals get done. I want to provide realistic information to property owners on Lake LBJ so that they can make educated decisions regarding their families and their future. If I allow you to over price your home, aren't I doing you a disservice?
If you are ever considering selling your waterfront home on Lake LBJ or interested in talking Lake LBJ real estate, give me a call at (512) 786-1515.
| | | | | | | | | | |
| --- | --- | --- | --- | --- | --- | --- | --- | --- | --- |
| Area | Price | Address | #Beds | #Baths | #HBaths | HCSqFt | Water Front Type | Wtr. Ft | Days On Market |
| Horseshoe Bay | $7,900,000 | 82 Applehead Island | 6 | 8 | 2 | 10,521 | Open Water | 487 | 658 |
| Kingsland Area | $5,950,000 | 324 Clearwater Landing | 6 | 6 | 2 | 9061 | Open Water | 434 | 461 |
| Horseshoe Bay | $5,500,000 | 5300 FM 2147 West | 5 | 4 | 1 | 4030 | Open Water | 660 | 244 |
| Horseshoe Bay | $4,985,000 | 1 Legacy Drive | 5 | 5 | 1 | 5924 | Lake | 900 | 29 |
| Horseshoe Bay | $4,500,000 | 5214 FM 2147 | 5 | 5 | 1 | 5797 | Open Water | 328 | 66 |
| Horseshoe Bay | $3,995,000 | 108 Wennmohs Place | 6 | 6 | 2 | 10,753 | Cove | 144 | 521 |
| Horseshoe Bay | $3,950,000 | 7 Applehead Island | 5 | 5 | 1 | 6333 | Lake | 162 | 12 |
| Horseshoe Bay | $3,950,000 | 109 Bunny Run | 5 | 5 | 1 | 5162 | Open Water | 119 | 529 |
| Horseshoe Bay | $3,895,000 | 42 Applehead Island | 4 | 5 | 1 | 5461 | Cove | 226 | 344 |
| Horseshoe Bay | $3,650,000 | 147 Applehead Island | 5 | 6 | 0 | 5788 | Open Water | 80 | 193 |
| Horseshoe Bay | $3,500,000 | 29 Applehead Island | 5 | 6 | 2 | 6614 | Lake | 46 | 84 |
| Horseshoe Bay | $3,100,000 | 400 Lighthouse Dr | 4 | 5 | 2 | 5500 | Open Water | 60 | 139 |
| Horseshoe Bay | $2,995,000 | 306 Matern Court | 4 | 4 | 0 | 4366 | Open Water | 200 | 84 |
| Horseshoe Bay | $2,995,000 | 132 Applehead Island | 4 | 5 | 2 | 5000 | Open Water | 65 | 223 |
| Horseshoe Bay | $2,975,000 | 127 Applehead Island | 4 | 5 | 1 | 5072 | Cove | 89 | 383 |
| Horseshoe Bay | $2,950,000 | 316 Wennmohs Place | 4 | 4 | 1 | 4251 | Open Water | 171 | 22 |
| Horseshoe Bay | $2,950,000 | 131 Applehead Island | 4 | 4 | 2 | 4552 | Open Water | 93 | 110 |
| Horseshoe Bay | $2,950,000 | 201 Bay Point Drive | 6 | 5 | 1 | 5272 | Open Water | 118 | 186 |
| Kingsland Area | $2,900,000 | 307 Lago Lane | 4 | 4 | 2 | 5361 | Open Water | 200 | 69 |
| Horseshoe Bay | $2,850,000 | 76 Applehead Island | 4 | 5 | 1 | 6423 | Open Water | 131 | 11 |
| Horseshoe Bay | $2,850,000 | 100 Waters Edge | 6 | 6 | 2 | 5536 | Cove | 275 | 249 |
| Horseshoe Bay | $2,675,000 | 37 Applehead Island | 4 | 4 | 1 | 4400 | Cove | 139 | 608 |
| Colorado Arm / Burnet Cty | $2,600,000 | 1011 Legends Parkway | 4 | 6 | 1 | 5236 | Open Water | 240 | 432 |
| Horseshoe Bay | $2,300,000 | 1009 Red Sail | 4 | 5 | 1 | 4684 | Cove | 169 | 180 |
| Horseshoe Bay | $2,300,000 | 111 Captains Row | 4 | 5 | 1 | 4582 | Open Water | 99 | 630 |
| Horseshoe Bay | $2,225,000 | 102 Bunny Run | 4 | 5 | 1 | 4061 | Open Water | 450 | 279 |
| Horseshoe Bay | $1,949,000 | 301 Lighthouse Dr | 4 | 3 | 0 | 3875 | Open Water | 62 | 151 |
| Marble Falls | $1,895,000 | 205 E Wilderness Drive | 5 | 3 | 1 | 5438 | Open Water | 80 | 279 |
| Horseshoe Bay | $1,875,000 | 104 Bunny Run | 5 | 6 | 0 | 4100 | Open Water | 94 | 41 |
| Kingsland Area | $1,650,000 | 3500 River Oaks Drive | 6 | 4 | 3 | 5820 | River | 60 | 240 |
| Horseshoe Bay | $1,629,000 | 505 Lighthouse Drive | 3 | 4 | 0 | 3433 | Open Water | 87 | 40 |
| Kingsland Area | $1,550,000 | 1730 BLUEBONNET | 4 | 5 | 1 | 4223 | Open Water | 105 | 77 |
| Sunrise Beach | $1,500,000 | 224 E Lakeshore Drive | 8 | 6 | 0 | 5976 | Open Water | 300 | 180 |
| Kingsland Area | $1,500,000 | 123 Elm Lodge | 5 | 4 | 1 | 7018 | Open Water | 400 | 637 |
| Kingsland Area | $1,499,999 | 104 RIVER PARK DRIVE | 4 | 5 | 0 | 3932 | Open Water | 73 | 13 |
| Horseshoe Bay | $1,498,000 | 1224 The Cape | 4 | 4 | 1 | 3533 | Open Water | 59 | 162 |
| Kingsland Area | $1,495,000 | 220 River Park Dr | 4 | 3 | 1 | 4476 | Open Water | 161 | 1 |
| BLake, DHvn, SHbr, Oakrdg | $1,495,000 | 100 Blue Mountain Trail | 4 | 5 | 0 | 3004 | Open Water | 75 | 46 |
| Horseshoe Bay | $1,495,000 | 1308 Broken Arrow | 3 | 3 | 1 | 3790 | Open Water | 124 | 243 |
| Granite Shoals | $1,399,000 | 45 Beaver Island | 5 | 4 | 1 | 3740 | Cove | 170 | 81 |
| Kingsland Area | $1,395,000 | 220 River Park Dr | 4 | 3 | 1 | 4476 | Open Water | 62 | 126 |
| Horseshoe Bay | $1,395,000 | 419 Oak Rock Point | 4 | 3 | 1 | 2657 | Open Water | 137 | 201 |
| Horseshoe Bay | $1,349,000 | 106A Oasis | 4 | 3 | 1 | 3565 | Cove | 61 | 607 |
| Horseshoe Bay | $1,349,000 | 106A Oasis | 4 | 3 | 1 | 3565 | Cove | 61 | 607 |
| Horseshoe Bay | $1,300,000 | 1002 Red Sails | 3 | 3 | 1 | 3040 | Open Water | 89 | 53 |
| Colorado Arm / Burnet Cty | $1,250,000 | 414 CR 119A | 7 | 6 | 0 | 4749 | Open Water | 77 | 271 |
| Colorado Arm / Burnet Cty | $1,250,000 | 125 Waters Edge | 4 | 3 | 1 | 3200 | Open Water | 71 | 279 |
| BLake, DHvn, SHbr, Oakrdg | $1,200,000 | 301 Blue Mountain Trail | 6 | 5 | 1 | 2864 | Open Water | 100 | 64 |
| Horseshoe Bay | $1,195,000 | 3609 Douglas Drive | 5 | 4 | 1 | 4219 | Channel | 65 | 171 |
| Horseshoe Bay | $1,195,000 | 504 Lucy Lane | 4 | 3 | 0 | 2860 | Open Water | 42 | 600 |
| Horseshoe Bay | $1,150,000 | 3505 Douglas Drive | 4 | 4 | 1 | 3072 | Cove | 89 | 140 |
| Kingsland Area | $1,125,000 | 102 Blue Heron | 6 | 6 | 0 | 4617 | Channel | 75 | 137 |
| Sunrise Beach | $1,100,000 | 651 Sandy Mountain Dr. | 4 | 4 | 0 | 3250 | Open Water | 230 | 145 |
| Horseshoe Bay | $1,044,500 | 3016 Driftwood | 3 | 3 | 1 | 3244 | Cove | 218 | 249 |
| Horseshoe Bay | $999,950 | 107 Keel Way | 4 | 3 | 0 | 2211 | Open Water | 108 | 419 |
| BLake, DHvn, SHbr, Oakrdg | $998,500 | 3606 Packsaddle Dr | 3 | 3 | 0 | 3463 | Open Water | 43 | 88 |
| Kingsland Area | $997,000 | 151 MELODY | 3 | 2 | 0 | 1962 | Open Water | 224 | 492 |
| Kingsland Area | $995,000 | 100 Blue Heron | 5 | 5 | 0 | 4034 | Channel | 76 | 137 |
| Horseshoe Bay | $995,000 | 108 Starboard | 5 | 5 | 0 | 3908 | Cove | 85 | 160 |
| Kingsland Area | $995,000 | 425 Yucca | 5 | 5 | 0 | 3111 | Open Water | 250 | 175 |
| Horseshoe Bay | $995,000 | 606-B Port | 3 | 3 | 0 | 2743 | Cove | 58 | 963 |
| Kingsland Area | $989,000 | 1498 Williams Lakeshore | 4 | 3 | 1 | 3338 | Open Water | 57 | 11 |
| Kingsland Area | $978,000 | 554 Barnett | 3 | 2 | 0 | 1732 | Lake | 132 | 398 |
| Granite Shoals | $975,000 | 15 Beaver Island | 3 | 2 | 0 | 2483 | Open Water | 80 | 40 |
| Horseshoe Bay | $975,000 | 510 Lucy Lane | 4 | 4 | 1 | 3555 | Open Water | 41 | 60 |
| Horseshoe Bay | $975,000 | 209 Bay Point Dr. | 3 | 3 | 1 | 3410 | Cove | 180 | 917 |
| Kingsland Area | $965,000 | 101 CENESA STREET | 5 | 3 | 1 | 3718 | Open Water | 78 | 158 |
| Horseshoe Bay | $959,000 | 606-A Port | 4 | 4 | 1 | 3247 | Cove | 46 | 437 |
| Llano County NE | $950,000 | 113 Primera Ct | 3 | 3 | 1 | 3946 | Open Water | 114 | 587 |
| Kingsland Area | $949,000 | 1005 TERRY LANE | 3 | 3 | 1 | 3148 | Cove | 400 | 87 |
| Horseshoe Bay | $949,000 | 106 Cove East #A | 4 | 5 | 0 | 3707 | Open Water | 32 | 113 |
| Kingsland Area | $949,000 | 158 Riverside View Dr | 4 | 3 | 0 | 2410 | Lake | 105 | 217 |
| Granite Shoals | $915,000 | 238 Green Acres | 4 | 4 | 1 | 4052 | Cove | 143 | 186 |
| Kingsland Area | $900,000 | 1918 Williams Lakeshore | 3 | 2 | 1 | 2545 | Open Water | 140 | 210 |
| Granite Shoals | $899,900 | 2840 LAKEVIEW LANE | 3 | 2 | 0 | 2450 | Open Water | 63 | 233 |
| Sunrise Beach | $899,000 | 322 E Lakeshore Drive | 7 | 7 | 0 | 6899 | Open Water | 336 | 104 |
| Horseshoe Bay | $895,000 | 118 Moon Isle | 3 | 3 | 0 | 2518 | Lake | 62 | 32 |
| Kingsland Area | $895,000 | 316 Bridgepoint Drive | 3 | 3 | 0 | 3006 | Cove | 122 | 129 |
| Granite Shoals | $895,000 | 12 Beaver Island Dr | 3 | 3 | 1 | 2600 | Open Water | 95 | 227 |
| Kingsland Area | $889,800 | 1701,1704 Bluebonnet Lane | 5 | 4 | 2 | 1862 | Open Water | 125 | 74 |
| Horseshoe Bay | $889,000 | 1109 The Cape | 4 | 4 | 0 | 3013 | Open Water | 40 | 50 |
| Kingsland Area | $875,000 | 313 Clearwater Dr | 4 | 4 | 1 | 3679 | Cove | 75 | 329 |
| Horseshoe Bay | $869,000 | 98 Island Drive #26 | 3 | 3 | 0 | 2029 | Open Water | 0 | 312 |
| Horseshoe Bay | $865,000 | 106-D Cove East | 4 | 5 | 0 | 4700 | Open Water | 30 | 623 |
| Kingsland Area | $849,900 | 1726 Williams Lakeshore | 3 | 3 | 0 | 3438 | Cove | 414 | 214 |
| Horseshoe Bay | $849,900 | 108 Boot Hill | 4 | 5 | 0 | 3899 | Channel | 80 | 371 |
| Horseshoe Bay | $849,500 | 1001 The Cape #21 | 3 | 3 | 0 | 2029 | Open Water | 0 | 131 |
| Horseshoe Bay | $845,000 | 1001 The Cape #61 | 3 | 3 | 0 | 2029 | Open Water | 0 | 235 |
| Kingsland Area | $834,000 | 3216 River Oaks | 5 | 4 | 0 | 3790 | Open Water | 181 | 221 |
| Sunrise Beach | $799,999 | 102 Thunderbird Lane | 4 | 3 | 1 | 3138 | Channel | 53 | 157 |
| Horseshoe Bay | $799,000 | 109 Moon Isle | 4 | 3 | 0 | 3758 | Cove | 82 | 210 |
| Kingsland Area | $799,000 | 311 Clearwater Dr | 4 | 4 | 0 | 3400 | Cove | 79 | 329 |
| Horseshoe Bay | $799,000 | 306 Island Dr I | 3 | 3 | 1 | 2770 | Open Water | 27 | 460 |
| Horseshoe Bay | $796,000 | 315 Horseshoe Bay North | 4 | 3 | 1 | 3200 | Open Water | 25 | 115 |
| Horseshoe Bay | $795,500 | 201 Cross Bow | 4 | 3 | 1 | 2727 | Cove | 144 | 4 |
| Sunrise Beach | $795,000 | 292 E Lakeshore Drive | 3 | 2 | 0 | 1104 | Cove | 280 | 53 |
| Horseshoe Bay | $795,000 | 412 Lucy Lane | 4 | 3 | 1 | 3863 | Cove | 113 | 117 |
| Sunrise Beach | $795,000 | 133 Princess Drive | 4 | 3 | 1 | 3100 | Cove | 60 | 130 |
| Sunrise Beach | $795,000 | 416 Lakeshore Lane | 3 | 1 | 1 | 1260 | Open Water | 151 | 335 |
| Horseshoe Bay | $785,000 | 102-B Bunny Run | 3 | 5 | 0 | 2564 | Open Water | 25 | 280 |
| Colorado Arm / Burnet Cty | $775,000 | 1714 CR 134 | 3 | 3 | 0 | 2382 | Open Water | 70 | 53 |
| Sunrise Beach | $775,000 | 301 Lake Terrace | 3 | 2 | 0 | 2300 | Cove | 100 | 126 |
| BLake, DHvn, SHbr, Oakrdg | $750,000 | 3804 Packsaddle Dr. | 3 | 2 | 1 | 2089 | Cove | 70 | 93 |
| Horseshoe Bay | $749,500 | 305-D Horseshoe Bay North Blvd | 5 | 4 | 1 | 3000 | Cove | 28 | 388 |
| Horseshoe Bay | $749,000 | 107 Cross Bow | 3 | 2 | 0 | 1974 | Cove | 81 | 613 |
| Horseshoe Bay | $748,000 | 1001 The Cape #31 | 3 | 3 | 0 | 2029 | Open Water | 0 | 253 |
| Horseshoe Bay | $739,000 | 305 Island Drive # D | 4 | 4 | 0 | 2565 | Open Water | 0 | 226 |
| Horseshoe Bay | $725,000 | 109 Island Drive #G | 4 | 3 | 1 | 2174 | Open Water | 32 | 12 |
| Granite Shoals | $725,000 | 2826 Lakeview | 3 | 2 | 0 | 1222 | Open Water | 171 | 14 |
| Horseshoe Bay | $725,000 | 100 Bunny Run #F | 4 | 3 | 1 | 2568 | Cove | 0 | 39 |
| Granite Shoals | $725,000 | 2822 Lakeview Lane | 3 | 3 | 0 | 3096 | Open Water | 140 | 415 |
| Colorado Arm / Burnet Cty | $724,900 | 109 WATERS EDGE | 3 | 3 | 0 | 2000 | Open Water | 86 | 187 |
| Granite Shoals | $719,900 | 1146 Hill Circle East | 3 | 3 | 0 | 2466 | Open Water | 83 | 60 |
| Kingsland Area | $699,900 | 436 Campa Pajama | 4 | 2 | 0 | 2200 | Open Water | 73 | 218 |
| Horseshoe Bay | $699,000 | 3607 Douglas Drive | 3 | 3 | 1 | 2556 | Cove | 55 | 120 |
| Sunrise Beach | $699,000 | 120 Cottonwood Dr | 3 | 2 | 0 | 2639 | Open Water | 69 | 121 |
| BLake, DHvn, SHbr, Oakrdg | $699,000 | 313 Lakeview Drive | 3 | 2 | 0 | 2411 | Channel | 189 | 176 |
| Kingsland Area | $699,000 | 111 Twin Isles Lane | 3 | 3 | 0 | 2970 | Channel | 254 | 225 |
| Granite Shoals | $699,000 | 1300 Hillcrest | 3 | 2 | 0 | 2250 | Cove | 100 | 372 |
| Horseshoe Bay | $699,000 | 100 Boot Hill | 4 | 3 | 0 | 2631 | Channel | 150 | 378 |
| Highland Haven/Shady Acre | $699,000 | 205 Crane | 4 | 3 | 0 | 2744 | Channel | 80 | 1397 |
| Horseshoe Bay | $695,000 | 103 Harbor Light South | 3 | 2 | 1 | 3085 | Cove | 30 | 46 |
| Horseshoe Bay | $695,000 | 108 Nimrod | 3 | 2 | 1 | 2324 | Channel | 76 | 116 |
| Horseshoe Bay | $695,000 | 706 Sandy Harbor Drive | 3 | 2 | 0 | 1824 | Open Water | 172 | 158 |
| Sunrise Beach | $695,000 | 220 Skyline Dr | 4 | 4 | 1 | 3000 | Open Water | 98 | 242 |
| Colorado Arm / Burnet Cty | $690,000 | 1704 CR 135 | 3 | 3 | 0 | 2283 | Open Water | 100 | 22 |
| Granite Shoals | $675,000 | 507 Shorewood Circle | 3 | 2 | 0 | 1812 | Cove | 171 | 166 |
| Horseshoe Bay | $675,000 | 1000 The Cape #31 | 3 | 3 | 0 | 2029 | Open Water | 0 | 97 |
| Horseshoe Bay | $650,000 | 98 Island Drive #14 | 3 | 2 | 0 | 1457 | Open Water | 0 | 35 |
| Granite Shoals | $650,000 | 311 Twilight | 3 | 3 | 0 | 2014 | Cove | 142 | 147 |
| Kingsland Area | $649,900 | 1704 BLUEBONNET LANE | 2 | 2 | 1 | 1862 | Open Water | 125 | 90 |
| Horseshoe Bay | $649,500 | 305-E Horseshoe Bay North Blvd | 3 | 3 | 1 | 2418 | Cove | 0 | 308 |
| Kingsland Area | $649,000 | 211 Chandler Way | 4 | 2 | 1 | 1882 | Cove | 44 | 65 |
| Horseshoe Bay | $649,000 | 529-9 Lighthouse Drive | 3 | 3 | 0 | 2225 | Open Water | 35 | 221 |
| Colorado Arm / Burnet Cty | $649,000 | 409 Shoals Parkway | 4 | 3 | 1 | 3700 | Open Water | 100 | 579 |
| BLake, DHvn, SHbr, Oakrdg | $630,000 | 203 SANDY Lane | 2 | 2 | 0 | 1280 | Cove | 95 | 295 |
| Granite Shoals | $629,000 | 416 Hill Drive | 3 | 2 | 0 | 2988 | Open Water | 65 | 207 |
| Kingsland Area | $599,000 | 114 Bridgepoint DR | 3 | 2 | 0 | 2752 | Channel | 97 | 56 |
| Granite Shoals | $599,000 | 2601 Belaire East Lane | 3 | 2 | 1 | 2243 | Open Water | 87 | 85 |
| Granite Shoals | $599,000 | 303 Belaire Circle | 3 | 2 | 0 | 1870 | Open Water | 52 | 124 |
| Horseshoe Bay | $599,000 | 114 Boot Hill | 6 | 7 | 0 | 3664 | Channel | 72 | 278 |
| Kingsland Area | $596,000 | 411 Watkins Point Rd. | 4 | 3 | 0 | 2142 | Cove | 270 | 236 |
| Horseshoe Bay | $595,000 | 609 Horseshoe Bay North | 4 | 4 | 1 | 2670 | Open Water | 0 | 6 |
| Horseshoe Bay | $585,000 | 1001 The Cape, Building 4, Unit 62 | 3 | 2 | 0 | 1629 | Open Water | 0 | 97 |
| Horseshoe Bay | $575,000 | 610 Horseshoe Bay North Blvd | 3 | 4 | 1 | 2202 | Open Water | 27 | 117 |
| Granite Shoals | $569,000 | 2602 Belaire East | 2 | 2 | 0 | 2354 | Open Water | 100 | 239 |
| Kingsland Area | $565,000 | 116 TIMBERLAKE DRIVE | 3 | 2 | 1 | 2558 | Cove | 202 | 261 |
| Kingsland Area | $564,000 | 203 Waterview | 3 | 3 | 0 | 3747 | Channel | 44 | 34 |
| Kingsland Area | $550,000 | 3712 River Oaks Drive | 3 | 3 | 0 | 2433 | Open Water | 50 | 284 |
| Horseshoe Bay | $549,000 | 109 Island Drive | 3 | 3 | 1 | 1904 | Cove | 15 | 32 |
| Horseshoe Bay | $549,000 | 1001 The Cape #63 | 3 | 2 | 0 | 1455 | Open Water | 0 | 59 |
| Horseshoe Bay | $545,000 | 508 Horseshoe Bay North Blvd | 4 | 3 | 1 | 2360 | Channel | 39 | 6 |
| Kingsland Area | $545,000 | 186 Sleepy Oaks Drive | 3 | 3 | 1 | 2100 | Cove | 93 | 126 |
| Kingsland Area | $545,000 | 184 Sleepy Oaks Dr | 3 | 3 | 1 | 2100 | Cove | 93 | 126 |
| Horseshoe Bay | $545,000 | 2509 Diagonal #15 | 3 | 2 | 0 | 2009 | Open Water | 0 | 216 |
| Sunrise Beach | $540,000 | 106 Skyline Drive | 3 | 2 | 0 | 2138 | Channel | 78 | 257 |
| Sunrise Beach | $530,000 | 326 E Lakeshore | 4 | 2 | 0 | 1604 | Cove | 67 | 498 |
| Kingsland Area | $525,000 | 1411 CR 132A | 3 | 2 | 0 | 2687 | Cove | 51 | 27 |
| Kingsland Area | $525,000 | 4812 River Oaks Drive | 5 | 4 | 0 | 3220 | Open Water | 178 | 214 |
| Horseshoe Bay | $520,000 | 1104 #3 The Cape | 3 | 3 | 1 | 1936 | Open Water | 0 | 108 |
| Horseshoe Bay | $519,000 | 101 Third Sid | 3 | 2 | 1 | 2202 | Channel | 24 | 159 |
| Horseshoe Bay | $499,000 | 1001 The Cape #14 | 3 | 2 | 0 | 1629 | Open Water | 0 | 63 |
| Kingsland Area | $499,000 | 1304 Euel Moore Drive | 3 | 3 | 0 | 1705 | Open Water | 100 | 166 |
| Sunrise Beach | $499,000 | 413 Sandy Mountain Dr. | 2 | 2 | 0 | 1480 | Cove | 91 | 176 |
| Highland Haven/Shady Acre | $499,000 | 500 Oleander | 5 | 3 | 1 | 2520 | Cove | 96 | 184 |
| Horseshoe Bay | $499,000 | 2509 Diagonal #7 | 3 | 2 | 0 | 2009 | Open Water | 0 | 258 |
| Sunrise Beach | $499,000 | 328 E Lakeshore | 2 | 2 | 1 | 2416 | Open Water | 55 | 276 |
| Kingsland Area | $499,000 | 3618 River Oaks Drive | 5 | 2 | 2 | 2965 | Open Water | 49 | 571 |
| Horseshoe Bay | $498,000 | 1104 The Cape #4 | 4 | 3 | 1 | 1936 | Open Water | 28 | 77 |
| Horseshoe Bay | $495,000 | 413 Horseshoe Bay North Blvd | 4 | 3 | 1 | 2171 | Open Water | 164 | 213 |
| Highland Haven/Shady Acre | $495,000 | 201 Lark | 3 | 2 | 1 | 2204 | Cove | 61 | 363 |
| Kingsland Area | $495,000 | 419 Antler Run | 3 | 3 | 0 | 3120 | Open Water | 50 | 416 |
| Sunrise Beach | $490,000 | 218 Lakeview | 2 | 1 | 0 | 960 | Open Water | 75 | 244 |
| Horseshoe Bay | $489,000 | 96 Island dr #23 | 3 | 2 | 0 | 1629 | Lake | 0 | 14 |
| Granite Shoals | $485,000 | 254 Green Acres | 3 | 2 | 0 | 1206 | Open Water | 67 | 16 |
| Sunrise Beach | $480,000 | 214 Beach | 2 | 2 | 0 | 2145 | Cove | 32 | 50 |
| Granite Shoals | $479,900 | 533 N Shorewood | 2 | 2 | 0 | 1485 | Cove | 70 | 57 |
| Kingsland Area | $479,000 | 201 Elm Lodge Drive | 3 | 1 | 0 | 1457 | Lake | 230 | 26 |
| Horseshoe Bay | $475,000 | 1001 The Cape #42 | 3 | 2 | 0 | 1637 | Open Water | 0 | 12 |
| Highland Haven/Shady Acre | $475,000 | 103 Thrush Street | 3 | 3 | 0 | 2471 | Open Water | 104 | 148 |
| Sunrise Beach | $475,000 | 102 Thunderbird Lane | 2 | 2 | 0 | 1850 | Channel | 42 | 157 |
| Highland Haven/Shady Acre | $475,000 | 709 Highland Drive | 3 | 2 | 0 | 1906 | Channel | 83 | 157 |
| Horseshoe Bay | $475,000 | 417 Horseshoe Bay North | 4 | 3 | 1 | 2279 | Open Water | 20 | 279 |
| Granite Shoals | $475,000 | 701 N Shorewood Drive | 3 | 2 | 0 | 1740 | Cove | 121 | 423 |
| Horseshoe Bay | $470,000 | 96 E Island Drive Unit 14 The Waters | 3 | 2 | 0 | 1640 | Open Water | 0 | 479 |
| Horseshoe Bay | $469,000 | 98 Island Drive #25 | 3 | 2 | 0 | 1640 | Open Water | 0 | 18 |
| Kingsland Area | $459,000 | 900 Long Mountain Dr. | 2 | 3 | 0 | 2205 | Open Water | 114 | 99 |
| Horseshoe Bay | $459,000 | 1001 The Cape #13 | 3 | 2 | 0 | 1457 | Open Water | 0 | 139 |
| Kingsland Area | $450,000 | 112 Timberlake Drive | 3 | 2 | 0 | 2005 | Cove | 25 | 126 |
| Kingsland Area | $449,900 | 175 Redbird Lane | 3 | 3 | 0 | 2374 | Cove | 177 | 301 |
| Sunrise Beach | $449,000 | 221 Sunrise Drive | 3 | 3 | 0 | 1676 | Cove | 147 | 5 |
| Horseshoe Bay | $448,000 | 104 Island Dr #I | 2 | 4 | 0 | 1796 | Open Water | 0 | 189 |
| Granite Shoals | $445,000 | 517 Contour | 2 | 2 | 0 | 1476 | Open Water | 75 | 275 |
| Horseshoe Bay | $439,000 | 402 Island Drive | 3 | 3 | 0 | 2293 | Open Water | 0 | 26 |
| Sunrise Beach | $439,000 | 619 Sandy Mountain Drive | 2 | 1 | 0 | 1160 | Cove | 57 | 238 |
| Horseshoe Bay | $439,000 | 517 Horseshoe Bay North Blvd | 4 | 3 | 1 | 2171 | Open Water | 16 | 279 |
| Kingsland Area | $439,000 | 4642 River Oaks Drive | 5 | 2 | 1 | 2481 | Open Water | 60 | 299 |
| Horseshoe Bay | $435,000 | 1000 The Cape Unit #53 | 3 | 2 | 0 | 1455 | Open Water | 0 | 594 |
| Horseshoe Bay | $434,900 | 1000 The Cape #42 | 3 | 2 | 0 | 1602 | Open Water | 0 | 176 |
| Horseshoe Bay | $434,000 | 1001 The Cape #45 | 2 | 2 | 0 | 1166 | Open Water | 0 | 153 |
| Granite Shoals | $430,000 | 402 Lake Downs Drive | 3 | 2 | 0 | 1606 | Cove | 54 | 29 |
| Horseshoe Bay | $429,000 | 1001 The Cape #35 | 2 | 2 | 0 | 1216 | Open Water | 0 | 208 |
| Kingsland Area | $425,000 | 1509 CR 132A | 3 | 3 | 0 | 2100 | Cove | 55 | 70 |
| Horseshoe Bay | $425,000 | 101 West Bank #54 | 3 | 2 | 0 | 1455 | Open Water | 0 | 173 |
| Horseshoe Bay | $425,000 | 101 West Bank #15 | 3 | 2 | 0 | 1629 | Lake | 0 | 182 |
| Kingsland Area | $425,000 | 617 Log Country Cove | 2 | 2 | 0 | 1296 | Cove | 120 | 342 |
| Horseshoe Bay | $420,000 | 1000 THE CAPE #33 | 3 | 2 | 0 | 1457 | Open Water | 0 | 195 |
| BLake, DHvn, SHbr, Oakrdg | $419,900 | 614 Sandy Harbor | 2 | 2 | 0 | 1373 | Open Water | 79 | 243 |
| Kingsland Area | $418,000 | 211 Lazy Oaks | 3 | 3 | 0 | 2758 | Channel | 112 | 2 |
| Horseshoe Bay | $415,000 | 604 Port, #5 | 3 | 2 | 1 | 1880 | Cove | 30 | 536 |
| Horseshoe Bay | $405,000 | 103 Island Drive #7 | 2 | 2 | 0 | 1439 | Open Water | 0 | 141 |
| Horseshoe Bay | $399,000 | 512 Horseshoe Bay North BLVD | 3 | 4 | 1 | 2825 | Channel | 29 | 7 |
| Highland Haven/Shady Acre | $399,000 | 505 Oleander | 3 | 2 | 0 | 1680 | Channel | 179 | 11 |
| Granite Shoals | $399,000 | 1142 Hill Circle East Drive | 3 | 2 | 0 | 1344 | Cove | 87 | 176 |
| Horseshoe Bay | $399,000 | 1001 The Cape #15 | 2 | 2 | 0 | 1166 | Open Water | 0 | 225 |
| Granite Shoals | $399,000 | 902 Shorewood Downs | 3 | 2 | 0 | 1698 | Cove | 110 | 267 |
| Granite Shoals | $399,000 | 428 E Castleshoals | 4 | 3 | 0 | 2335 | Channel | 150 | 542 |
| Kingsland Area | $397,950 | 4902 River Oaks | 3 | 2 | 0 | 1883 | Open Water | 75 | 106 |
| Sunrise Beach | $395,000 | 659 Sandy Mountain Drive | 2 | 1 | 0 | 1080 | Cove | 55 | 77 |
| Kingsland Area | $390,500 | 301 RIVER LAKE Drive | 3 | 2 | 0 | 1942 | Channel | 151 | 232 |
| Horseshoe Bay | $390,000 | 103 Island Drive, #8 | 2 | 2 | 1 | 2074 | Open Water | 0 | 124 |
| Horseshoe Bay | $385,000 | 406 Horseshoe Bay North Blvd. | 3 | 3 | 1 | 1897 | Channel | 30 | 81 |
| Sunrise Beach | $385,000 | 158 Winding Way | 2 | 1 | 1 | 1288 | Channel | 11 | 157 |
| Sunrise Beach | $379,900 | 201 W. Lakeshore Drive | 1 | 1 | 0 | 1100 | Cove | 118 | 60 |
| Horseshoe Bay | $379,000 | 1000 The Cape #65 | 2 | 2 | 0 | 1216 | Open Water | 0 | 65 |
| Sunrise Beach | $379,000 | 108 Thunderbird Lane | 3 | 2 | 0 | 1144 | Channel | 120 | 250 |
| Horseshoe Bay | $375,000 | 101 West Bank #14 | 3 | 2 | 0 | 1455 | Lake | 0 | 35 |
| Kingsland Area | $375,000 | 5114 River Oaks Dr | 3 | 2 | 0 | 1410 | Open Water | 12,158 | 258 |
| Sunrise Beach | $375,000 | 117 Thunderbird | 3 | 2 | 0 | 1500 | Cove | 51 | 272 |
| Horseshoe Bay | $369,000 | 101 West Bank #16 | 2 | 2 | 0 | 1216 | Open Water | 0 | 65 |
| Horseshoe Bay | $364,500 | 1000 The Cape #22 | 3 | 2 | 0 | 1637 | Cove | 0 | 237 |
| Kingsland Area | $360,000 | 586 CRESTWOOD DR | 2 | 2 | 0 | 2365 | Cove | 58 | 149 |
| Horseshoe Bay | $350,000 | 98 Island Drive #41 | 1 | 1 | 0 | 806 | Open Water | 0 | 192 |
| Kingsland Area | $349,900 | 103 County Road 136A | 3 | 2 | 0 | 1980 | Channel | 36 | 171 |
| Highland Haven/Shady Acre | $349,500 | 509 Highland Drive | 3 | 2 | 1 | 2920 | Channel | 90 | 201 |
| Sunrise Beach | $349,000 | 104 E Lakeshore Dr | 3 | 2 | 1 | 2008 | Channel | 128 | 36 |
| Granite Shoals | $349,000 | 1001 N Shorewood Drive | 1 | 1 | 0 | 816 | Cove | 93 | 116 |
| Horseshoe Bay | $345,000 | 509 Short Circuit #207 | 3 | 2 | 0 | 1154 | Lake | 0 | 120 |
| Horseshoe Bay | $339,500 | 509 Short Circuit #204 | 2 | 2 | 0 | 1150 | Cove | 0 | 203 |
| Kingsland Area | $339,000 | 1947 Glencove | 2 | 2 | 0 | 1488 | Channel | 121 | 96 |
| Horseshoe Bay | $335,000 | 98 Island Drive #31 | 1 | 1 | 0 | 806 | Other | 0 | 60 |
| BLake, DHvn, SHbr, Oakrdg | $335,000 | 730 Sandy Harbor Drive | 3 | 2 | 0 | 1908 | Channel | 190 | 164 |
| Sunrise Beach | $333,000 | 715 Sunrise Avenue | 2 | 2 | 1 | 2394 | Cove | 85 | 663 |
| Horseshoe Bay | $330,000 | 101 West Bank, Bldg 2, Unit 42 | 2 | 2 | 0 | 1216 | Open Water | 0 | 97 |
| Horseshoe Bay | $330,000 | 402 Lost Echo #2 | 3 | 3 | 1 | 2146 | Cove | 0 | 447 |
| Horseshoe Bay | $329,000 | 509 Short Circuit #202 | 2 | 2 | 0 | 1154 | Cove | 0 | 63 |
| Horseshoe Bay | $329,000 | 613 Hi Circle North C | 2 | 3 | 0 | 1216 | Cove | 20 | 170 |
| Horseshoe Bay | $325,995 | 101 Island Drive | 2 | 2 | 0 | 1124 | Open Water | 85 | 119 |
| Kingsland Area | $319,000 | 1107 CR 132B | 2 | 2 | 0 | 1180 | Cove | 60 | 24 |
| Horseshoe Bay | $315,000 | 98 Island Drive #21 | 1 | 1 | 0 | 806 | Other | 0 | 74 |
| Sunrise Beach | $305,000 | 308 Mountain View Drive | 3 | 2 | 0 | 1533 | Channel | 87 | 6 |
| Horseshoe Bay | $300,000 | 98 Island Drive #11 | 1 | 1 | 0 | 806 | Open Water | 0 | 74 |
| Granite Shoals | $299,000 | 308 W Briarway | 3 | 2 | 0 | 1344 | Cove | 80 | 155 |
| Sunrise Beach | $295,000 | 517 N Beach Drive | 2 | 1 | 0 | 1188 | Channel | 75 | 112 |
| Horseshoe Bay | $295,000 | 2513-D Diagonal | 2 | 2 | 0 | 1129 | Open Water | 0 | 225 |
| Sunrise Beach | $293,500 | 604 Barbara Lane | 3 | 3 | 0 | 1767 | Channel | 194 | 217 |
| Kingsland Area | $290,000 | 610 Thurman Ci | 3 | 2 | 0 | 2208 | Channel | 158 | 244 |
| Kingsland Area | $289,000 | 642 CR 126 | 3 | 2 | 0 | 1857 | Channel | 99 | 44 |
| Granite Shoals | $289,000 | 421 E Briarway | 2 | 2 | 0 | 1272 | Channel | 67 | 67 |
| Horseshoe Bay | $285,000 | 104 Horseshoe Bay Blvd #10 | 2 | 2 | 0 | 1376 | Channel | 0 | 56 |
| Kingsland Area | $275,000 | 1504 Bluebonnet Lane | 3 | 2 | 0 | 1608 | Channel | 67 | 99 |
| Llano County SE | $275,000 | 1226 Long Mountain Drive | 3 | 2 | 0 | 1864 | Open Water | 100 | 645 |
| Kingsland Area | $274,900 | 4706 River Oaks | 3 | 2 | 0 | 1543 | Open Water | 117 | 264 |
| Kingsland Area | $268,000 | 4718 River Oaks | 4 | 2 | 1 | 1881 | Lake | 50 | 241 |
| Granite Shoals | $265,000 | 404 E Castleshoals | 2 | 2 | 1 | 1770 | Channel | 100 | 815 |
| Sunrise Beach | $259,900 | 911 Sandy Mountain Dr. | 3 | 2 | 0 | 2020 | Open Water | 100 | 303 |
| Horseshoe Bay | $259,000 | 104 Horseshoe Bay Blvd. #16 | 2 | 2 | 0 | 1376 | Channel | 50 | 607 |
| Kingsland Area | $249,000 | 5303 Pair | 2 | 2 | 0 | 1696 | Channel | 45 | 50 |
| Kingsland Area | $239,900 | 107 Red Bird | 4 | 3 | 0 | 1768 | Cove | 80 | 98 |
| Horseshoe Bay | $239,900 | 509 Short Circuit #110 | 2 | 1 | 0 | 857 | Cove | 0 | 202 |
| Kingsland Area | $239,000 | 5303 Pair | 2 | 2 | 0 | 1696 | Channel | 45 | 50 |
| Kingsland Area | $235,000 | 5307 Shady Oaks Circle | 3 | 2 | 0 | 2574 | Channel | 75 | 123 |
| Horseshoe Bay | $225,000 | 96 Island Drive #21 | 1 | 1 | 0 | 806 | Open Water | 0 | 391 |
| Horseshoe Bay | $225,000 | 101 West Bank #37 | 1 | 1 | 0 | 809 | Open Water | 0 | 432 |
| Horseshoe Bay | $223,900 | 509 Short Circuit #201 | 2 | 1 | 0 | 857 | Cove | 0 | 1421 |
| Horseshoe Bay | $220,000 | 509 Short Circuit #301 | 2 | 1 | 0 | 857 | Cove | 0 | 259 |
| Highland Haven/Shady Acre | $219,995 | 114 Weeping Willow | 1 | 1 | 0 | 1130 | Cove | 70 | 68 |
| Granite Shoals | $219,900 | 806 Highcrest #30 | 2 | 2 | 0 | 1290 | Cove | 0 | 237 |
| Horseshoe Bay | $215,000 | 96 ISLAND DRIVE #31 | 1 | 1 | 0 | 816 | N/A | 0 | 88 |
| Colorado Arm / Burnet Cty | $210,000 | 1328 contour rd | 1 | 1 | 0 | 866 | Channel | 75 | 159 |
| Granite Shoals | $198,500 | 806 Highcrest #10 | 2 | 1 | 1 | 1290 | Cove | 1 | 119 |
| BLake, DHvn, SHbr, Oakrdg | $190,000 | 750 Sandy Harbor Drive | 3 | 2 | 0 | 1461 | Creek Year Round | 231 | 532 |
| Horseshoe Bay | $189,000 | 1000 The Cape #16 | 1 | 1 | 0 | 808 | Open Water | 0 | 35 |
| Granite Shoals | $174,900 | 806 Highcrest #8 | 3 | 1 | 1 | 1290 | Cove | 0 | 129 |
| Granite Shoals | $174,000 | 806 Highcrest #20 | 2 | 1 | 0 | 1290 | Cove | 0 | 196 |
| Horseshoe Bay | $169,500 | 509 Short Circuit #107 | 1 | 1 | 0 | 762 | Cove | 15 | 572 |
| Granite Shoals | $164,900 | 806 Highcrest #4 | 2 | 1 | 0 | 1290 | Cove | 0 | 131 |
| Horseshoe Bay | $162,900 | 612 Port #9 | 2 | 2 | 0 | 1406 | Open Water | 0 | 497 |
| Granite Shoals | $135,500 | 604 HIGHCREST 522 | 2 | 2 | 0 | 1230 | Cove | 120 | 487 |
| Granite Shoals | $135,500 | 604 HIGHCREST 422 | 2 | 2 | 0 | 1230 | Cove | 120 | 487 |
| Kingsland Area | $124,000 | 106 CASEY DRIVE | 4 | 2 | 0 | 1736 | Channel | 81 | 261 |
| Granite Shoals | $87,500 | 604 HIGHCREST 321 | 1 | 1 | 0 | 957 | Cove | 120 | 487 |
| Granite Shoals | $87,500 | 604 HIGHCREST 226 | 1 | 1 | 0 | 957 | Cove | 120 | 487 |
| Granite Shoals | $87,500 | 604 HIGHCREST 211 | 1 | 1 | 0 | 957 | Cove | 120 | 487 |
| Granite Shoals | $87,500 | 604 HIGHCREST 225 | 1 | 1 | 0 | 957 | Cove | 120 | 487 |
| Granite Shoals | $87,500 | 604 HIGHCREST 221 | 1 | 1 | 0 | 957 | Cove | 120 | 487 |
| Granite Shoals | $87,500 | 604 HIGHCREST 216 | 1 | 1 | 0 | 957 | Cove | 120 | 487 |
| Granite Shoals | $87,500 | 604 HIGHCREST 215 | 1 | 1 | 0 | 957 | Cove | 120 | 487 |
| Granite Shoals | $87,500 | 604 HIGHCREST 214 | 1 | 1 | 0 | 957 | Cove | 120 | 487 |
| Granite Shoals | $87,500 | 604 HIGHCREST 212 | 1 | 1 | 0 | 957 | Cove | 120 | 487 |
| Granite Shoals | $73,000 | 604 HIGHCREST 121 | 1 | 1 | 0 | 957 | Cove | 120 | 487 |
| Granite Shoals | $73,000 | 604 HIGHCREST 112 | 1 | 1 | 0 | 957 | Cove | 120 | 488 |
| Granite Shoals | $69,500 | 604 HIGHCREST 617 | 1 | 1 | 0 | 448 | Cove | 120 | 486 |
| Granite Shoals | $69,500 | 604 HIGHCREST 614 | 1 | 1 | 0 | 487 | Cove | 120 | 486 |
| Granite Shoals | $69,500 | 604 HIGHCREST 613 | 1 | 1 | 0 | 487 | Cove | 120 | 487 |
| Granite Shoals | $69,500 | 604 HIGHCREST 612 | 1 | 1 | 0 | 957 | Cove | 120 | 487 |
| | | | | | | | | | |
| Max | $7,900,000 | | | | | | | | |
| Average | $855,015 | | | | | | | | |
| Min | $69,500 | | | | | | | | |